Choa Chu Kang Public library
Placemaking, Spatial Design
Libraries in Singapore have evolved over the years - reading spaces like those at Tampines Regional Library and library@Harbourfront are functional but also beautiful. They have also expanded in function to include study areas and event spaces. The way books are borrowed have become more convenient as well, and you can even sign up for courses. Here's how we designed Choa Chu Kang Public Library to be part of the evolution.
connecting choa chu kang to its history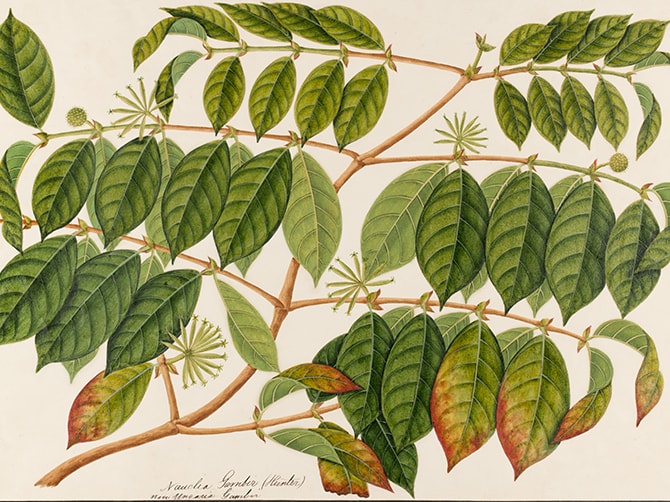 Choa Chu Kang is a neighbourhood with a humble history of gambier, pepper, rubber and fruit plantations, and the last tiger in Singapore was even shot here in the 1930s. We were challenged to inspire the Choa Chu Kang community to reconnect with nature and educate the community on topics such as the environment, farming and sustainability.
We also took the opportunity to change passive learning - where books are just displayed on shelves - into an interactive journey that goes beyond library usage.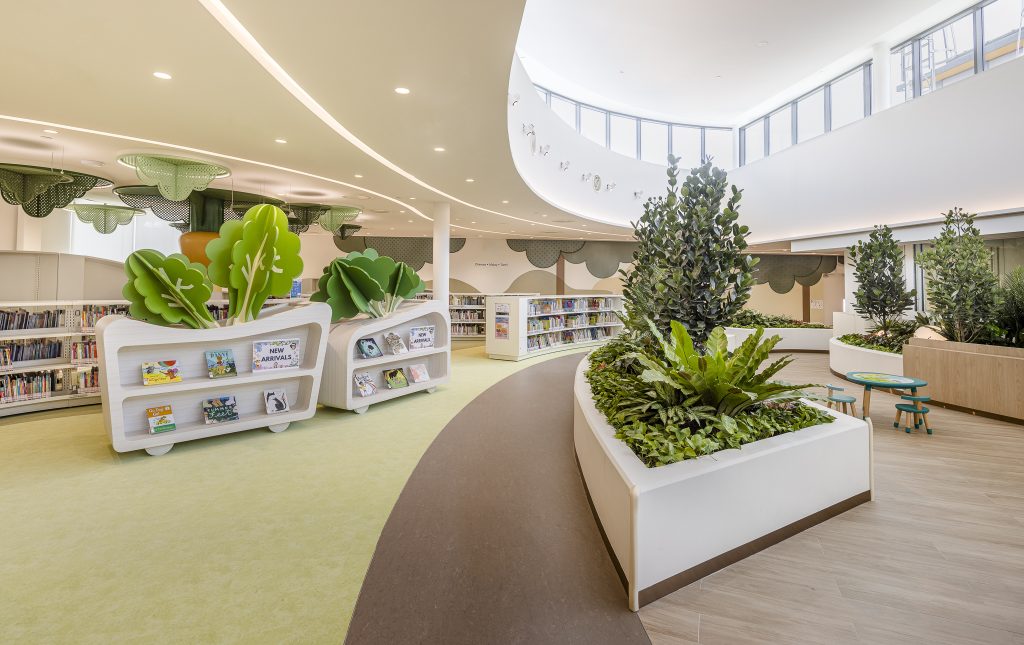 An intuitively designed, function-focused library experience
Serving a population of about 169,000 people, Choa Chu Kang Community Library caters to a wide demographic, ranging from children and teenagers to working adults (those aged 20 to 49 years of age form 47% of the population) and the elderly. We narrowed down the characteristics of the target audience as such:

- Curious: always seeking to learn and get inspired
- Independent: always confident in working their own way
-"On-the-go": always in pursuit of efficiency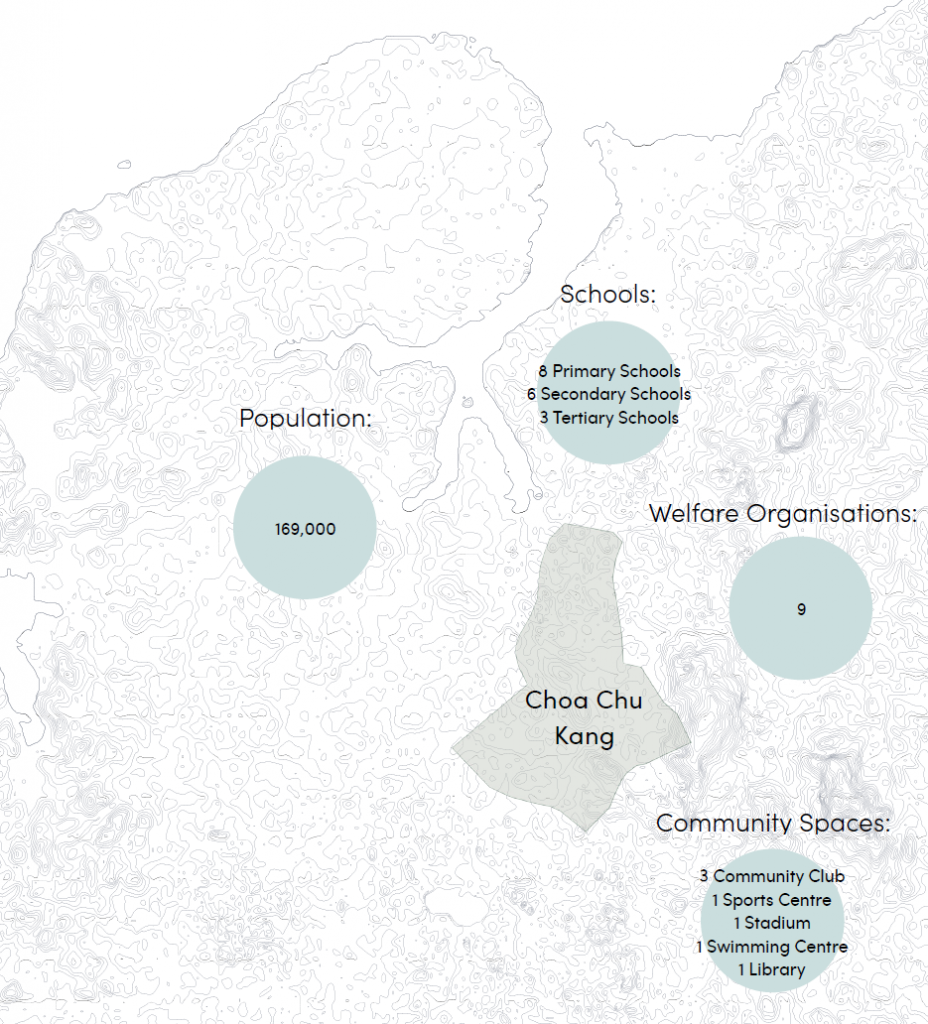 Thus, we knew we had to create an intuitively designed, function-focused library experience. The design had to be attractive, refreshed, comfortable, and soundproof. Wayfinding had to be simple, visible, and enabling. But based on the design challenge, we also needed to inspire and educate the community, as well as change the library experience from a passive learning experience.
experiential storytelling through space
To rethink conventional notions of a library, we asked ourselves: what if knowledge could be acquired through an interactive journey of discovery and active experience of space?
A key approach that we took was to implement experiential storytelling through the library's built environment by weaving a nature-themed narrative that referenced Choa Chu Kang's rich farming history.
EXPANDING THE LIBRARY'S TYPICAL FUNCTION
This also opened opportunities to explore beyond a library's typical functions and inspire new programmatic uses. We introduced new programmes and activities that would not only celebrate Choa Chu Kang's heritage, but also develop different types of knowledge.
These programmes would be educational, inspiring and also help foster a sense of community. The overall experience goes beyond to benefit the community.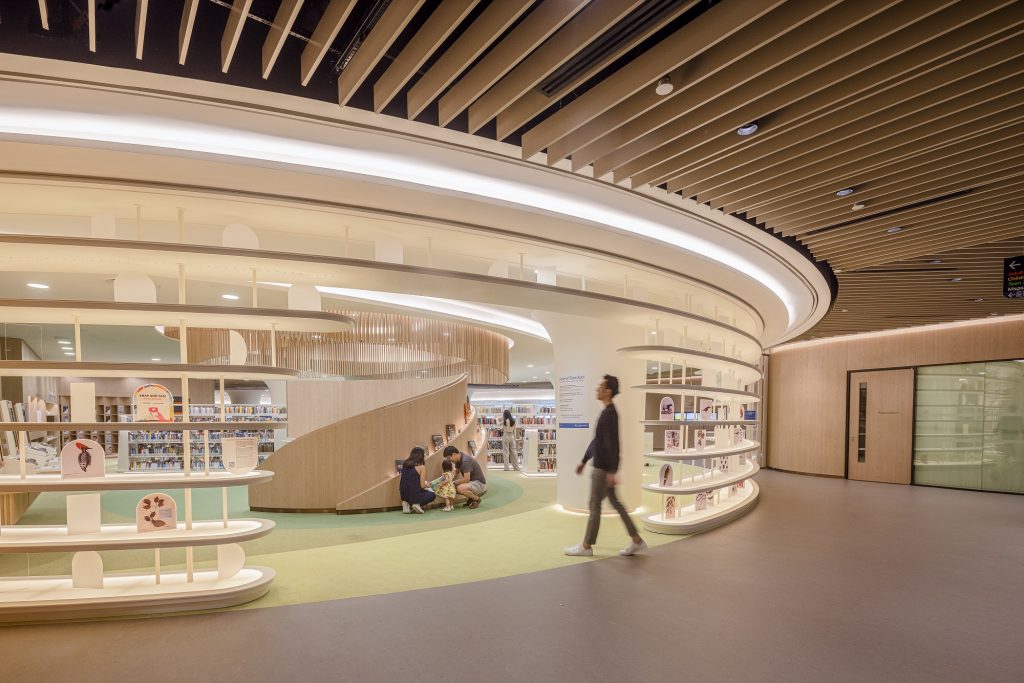 "To rethink conventional notions of a library, we asked ourselves: what if knowledge could be acquired through an interactive journey of discovery and active experience of space?"
EXPERIENCING NATURE IN THE BUILT SPACE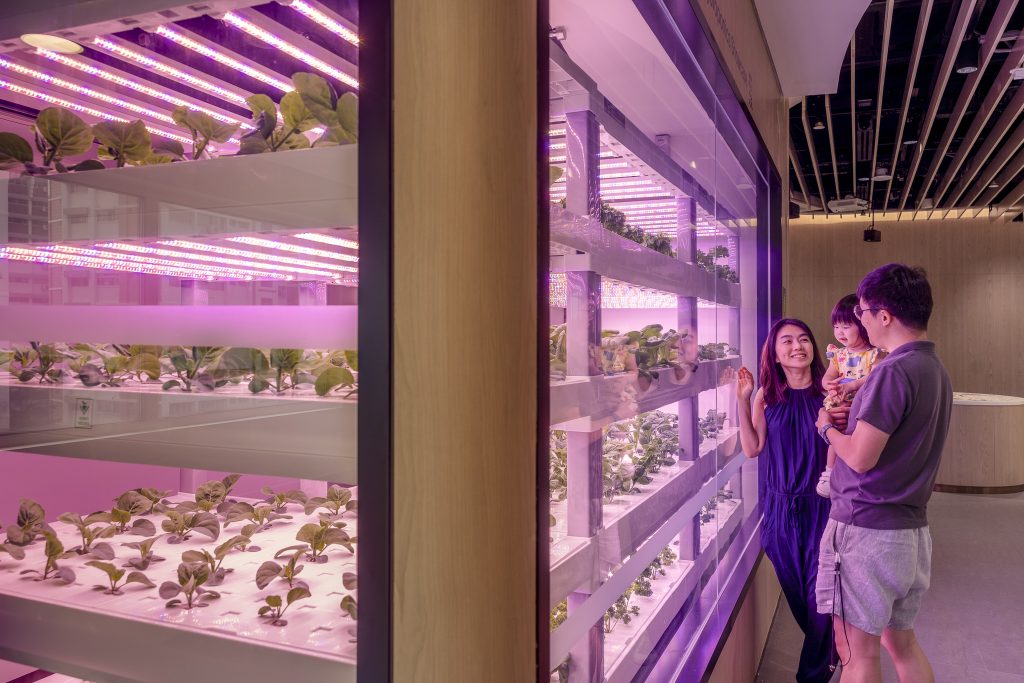 The library's interior features many elements that draw cues from the theme of nature. Spaces are named after forms of nature, e.g. "The Valley" and "The Cove".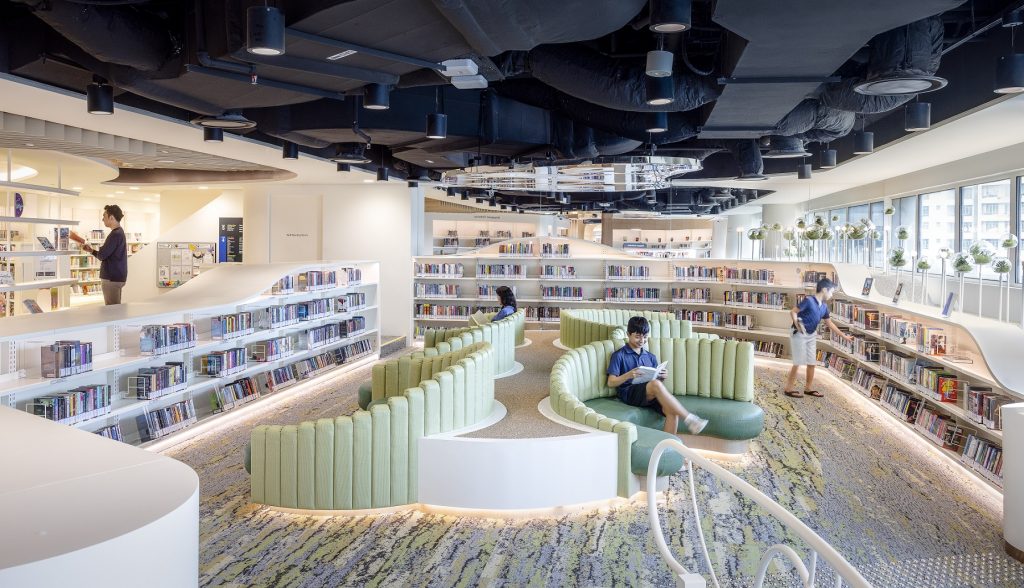 The design of the spaces, ceiling features, shelves, seating and even furniture components were

modelled after elements and characteristics derived from nature.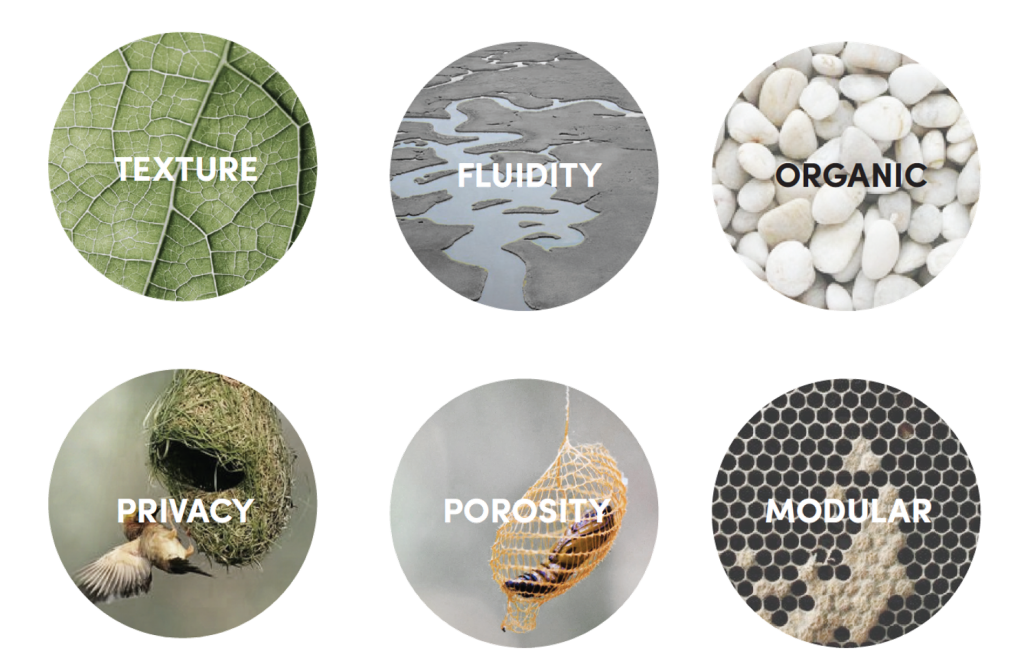 Characteristics of nature that were applied to the design of the library.
The curved bookshelves also served a wayfinding purpose - their curves help mark boundaries of the different sections and intuitively guide users around the space.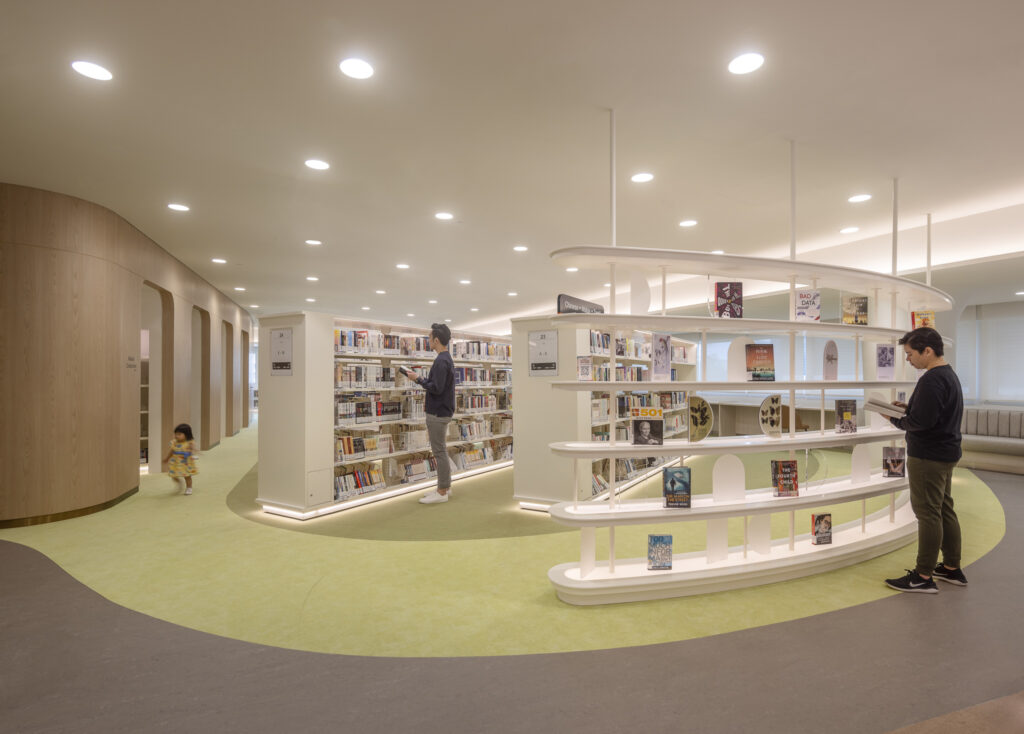 FUNCTION FOCUSED FURNITURE DESIGN
When it came to furniture, we wanted to design various typologies that would cater to different groups of users. For those who need privacy, there are small cocoon-like reading corners. Round seating was designed for small group work with overhanging acoustics. There are a variety of options for those who work on the go, as well as tables for users who spend long hours at work or study.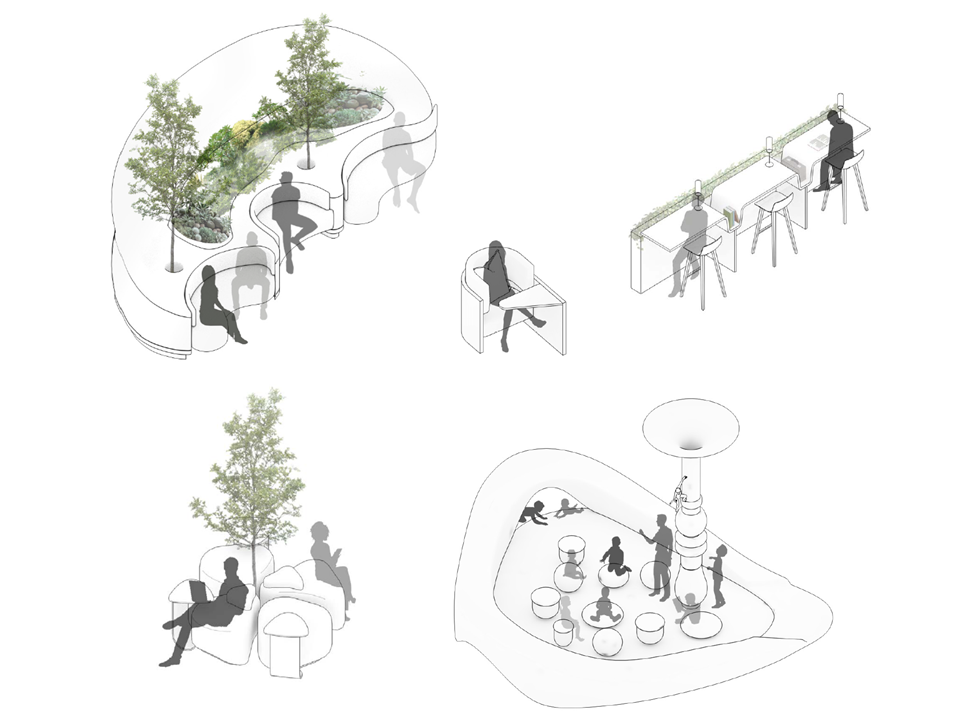 Designing furniture to be human-centric, open, and mobile encourages families to gather and interact with one another.
To emphasize the library as a place that nurtures learning and imagination, we designed the children's areas with a unique theme. Reading areas had components like shelves that were re-imagined as larger than life plants and vegetables to inject a sense of wonder and ignite their imaginations.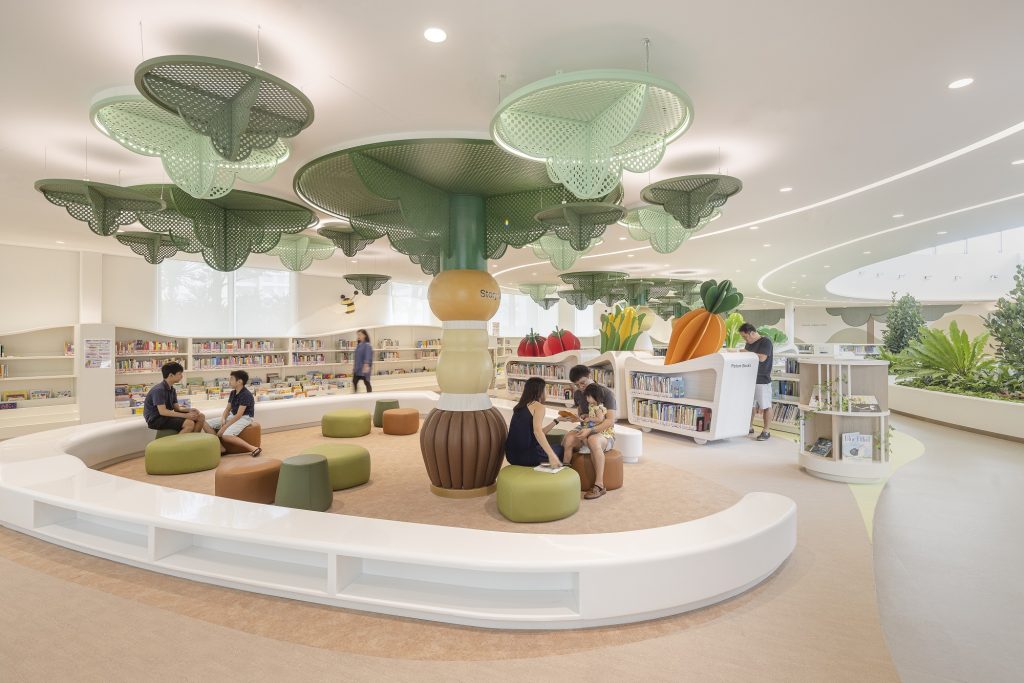 PROGRAMMING AS A STRATEGY
New activities not usually found in other libraries were added to the library's programming. As they are situated in different areas of the library, they serve as a strategy to maneuver users throughout Choa Chu Kang Library. Users can have an experience that is organic, yet structured enough for clarity.
For example, the hydroponics wall is located at the Green Grove (I) in the diagram below. This attracts users' attention towards the book collections from the entrance (marked by the black arrow).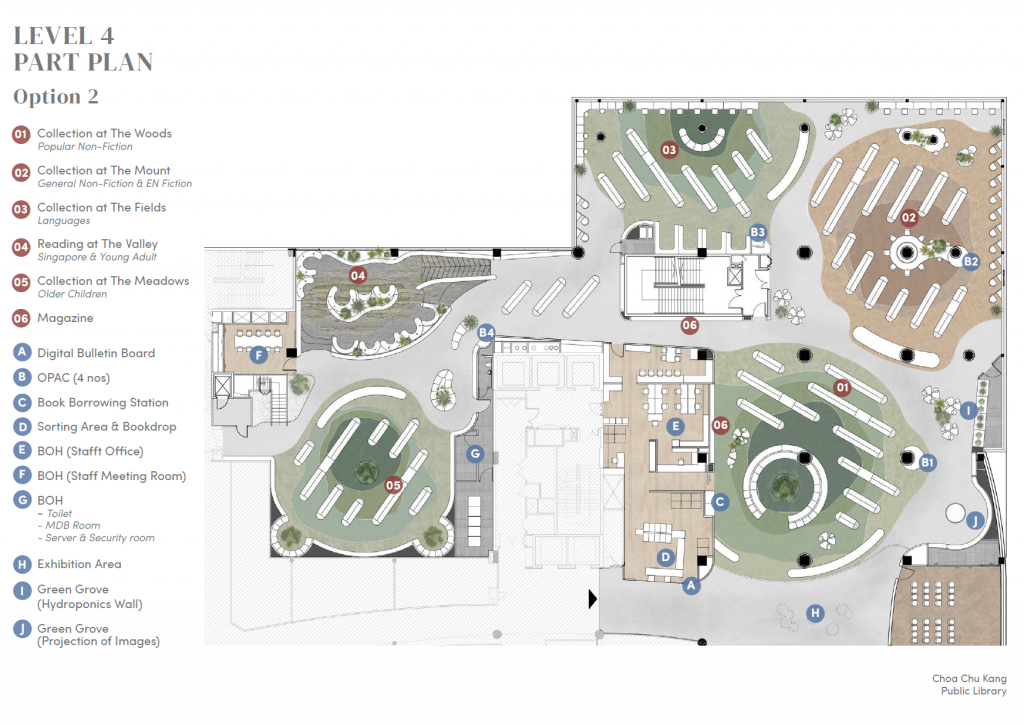 Layout developed by The Afternaut Group
The programming space (The Cove - 06 in the diagram below) which would host workshops related to education on plant-related topics, farm-to-table concepts, plants and perhaps farmers' markets in the future is located before the study area (The Forest - 07) and the reading area (The Lawn - 09).
Thus on the way to these areas, the teenagers and working adults would first experience the programming spaces, attracting the crowd to the educational programmes.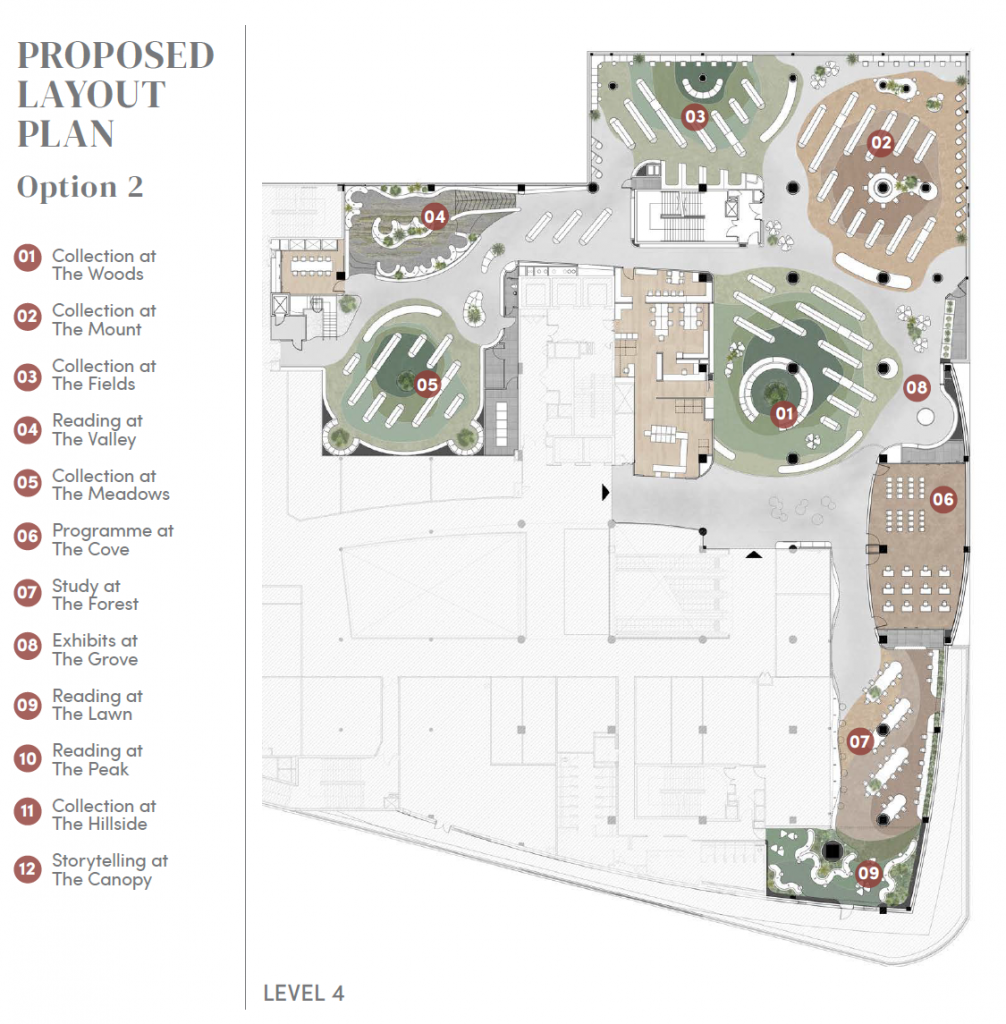 A LIBRARY AND HOME LOVED BY THE COMMUNITY
With this new design experience, we worked together with the National Library Board to make Choa Chu Kang Community Library a community space that helps bring people together to learn, bond, and reconnect with nature. We hope this inspires them to be active participants in ensuring their environment's sustainability, so that Choa Chu Kang really feels like their home.