Helping SMEs
innovate in a world
affected by COVID-19
Many SMEs were hit hard by the COVID-19 pandemic, but under the Frame & Scope programme by the DesignSingapore Council, we worked together with Nanami Suisan, Timbre, EDL Laminates, and DrX clinic to strengthen their post-COVID business resilience. The Frame & Scope programme aims to help SMEs innovate and develop sound business solutions by identifying new growth and innovation areas through a user-centred design process.
Nanami Suisan, Timbre, EDL Laminates, DrX Clinic
F&B, Entertainment, Interior Design, Aesthetics
Experiential Design, Business
1. Nanami Suisan - Building post-COVID 19 resilience
Starting a new F&B venture in a post-COVID world
Nanami Suisan is a grocer selling fresh and frozen Japanese ingredients, including sashimi. They wanted to explore new business models; in addition to having their own grocery store, they also wanted to have their own dining establishment inside the store.
However Nanami faced some challenges: there were many other players in the market selling similar items; they wanted to venture into F&B, which they had not done before; and they were always at the mercy of increasing rental costs. Nanami also had no online presence, was not listed on food delivery applications, nor did they have any queue management or digital payment systems.
Understanding customers' purchasing behaviour
We analysed their current position in the market, studied their competitors, and used design research methods including customer focus groups to understand the needs of their target market. Using these insights, we identified some opportunities where they could innovate, and build their post-COVID 19 resilience and developed a strategic blueprint.
By understanding the customer's journey as well as Nanami's business operations journey, we could identify the gaps and opportunities, for example using online menus to decentralise ordering. We devised a new store concept for them - a deli-styled store with a seasonal menu, that sold premium seafood at hawker prices.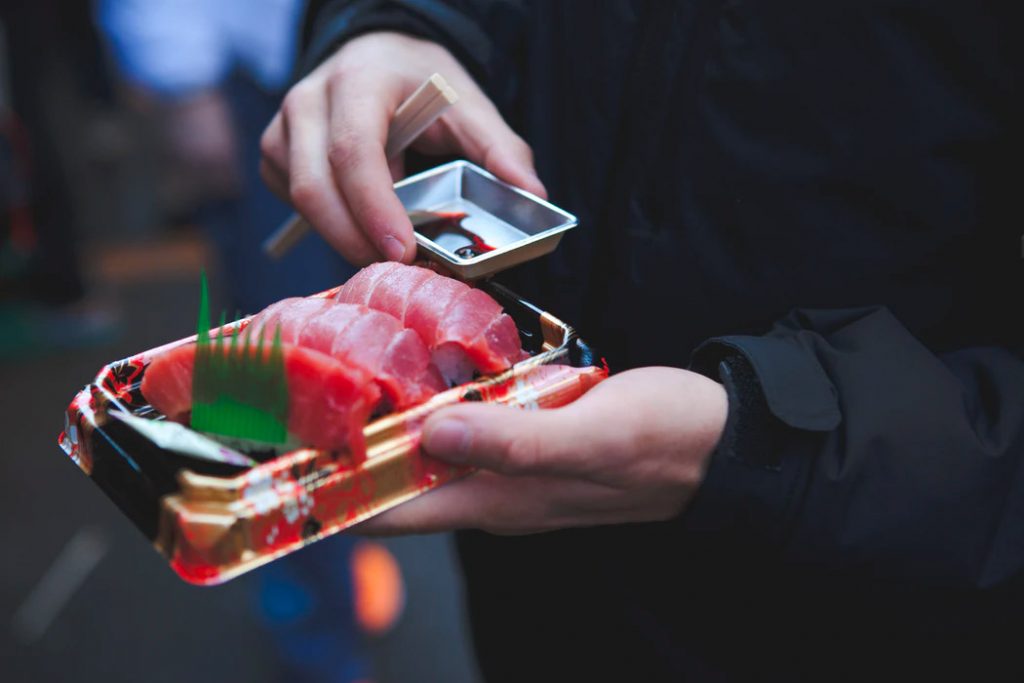 Leveraging on trends to meet needs
Since Nanami had no resources to run their grocery-cum-restaurant, we spoke to their target market to understand what Nanami should focus on. This gave us an important insight - we found out that Nanami should support homecooking. 82% of customers surveyed cooked at home at least 1 to 4 times a month, and 63.2% wanted the store to sell items that would make cooking at home easier, e.g. having meal packs. Some customers also shared that they would like sous vide ready pouches, and corners in the store showing cooking sessions and tips.
75% of target customers surveyed showed interest in this proposed deli-style concept. We also discovered through the design research that Nanami's customers were keen on understanding the health benefits of the ingredients and would like the produce to be grouped accordingly.
Ensuring business sustainability
Working together with Nanami, we found out the best way for them to innovate their deli-style outlet would be to have a small sit-in area for dining, and focus on selling fresh sashimi that makes home cooking easier. The small dining area would encourage takeaways and quick turnover, and also reduce food waste.
We also proposed having a seasonal menu to optimise cost and nutrition. The store would run with a health themed concept with nutritional breakdown and health benefits. Engaging with customers was yet another important part of their business plan, thus we developed a model for them that involved interacting with customers on social media, enabling them to order groceries online for in-store pick up, and developed resources for customers, like recipes for home cooks, and product use/info.
2. Timbre - Tackling changes in the F&B industry and effects of COVID-19
Double whammy from industry changes and
COVID-19
Timbre was established in 2006 and is well-known as an entertainment and F&B establishment. But they have not been spared from the changes in the F&B industry, and COVID-19 was not kind to them either. Under the Frame & Scope programme, Timbre hoped to deviate from the traditional food services business model, which is dealing with rising labour and rental costs, and an increasing number of competitors, especially those selling food online. Low profit margins also leave the company with limited reserves to weather future uncertainties.
Understanding their objective and how to achieve it
Through conversations with Timbre, we realised how passionate they were about preserving and promoting Singapore F&B and the arts. They wanted to bring together different segments of Singapore stories and create a uniquely Singaporean community with home-grown talents, thus evolving Timbre into a placemaking, space activation consultant and operator.
We conducted surveys and interviews with their internal stakeholders, customers, hawker tenants, and musicians to find out what they liked and disliked about their interactions with Timbre. Then using these insights, we did a gap and opportunity analysis that would turn Timbre from a live music restaurant/bar and hawker centre to a truly Singaporean lifestyle destination.
Digital and physical entertainment are not enemies
We conducted a workshop where we flipped assumptions about Timbre and the industry on its head so that we could derive opportunities. For example, there is the assumption that the value of entertainment has been affected by digital platforms, which in turn affects the future of venue spaces. Instead of looking at virtual entertainment as a competing space, we looked at this assumption from another perspective.
Virtual entertainment and physical venues can be grown at the same time, and having a virtual entertainment space can actually add to Timbre's revenue and audience size, as livestreaming would allow more audiences to take part. Virtual entertainment can also be a way to channel online talent to venues, e.g. stream a show with us before we consider giving your band a live concert billing.
Using data to create an omnichannel experience and community
Armed with the business implementation plan that we worked with Timbre to draw up, they now had a clearer picture of how to bring their aspirations to life. They would use the blend of digital and physical spaces to create more content and additional revenue streams. Together with data analytics on their customers' behaviour that they can leverage, they will be able to create an omnichannel experience. This connects customers, musicians, and hawker tenants online and in physical venues together, building a community of passionate creators, and making Timbre a lifestyle destination and brand.
During the circuit breaker (quarantine) period in Singapore, Timbre was the only music venue that still paid musicians a portion of their fees. Additionally, they trained musicians on how to record and stream performances online, using the hashtag #keepmusicalive. They managed to get online sponsors and amassed 300,000 organic views. In order to build the community of Singapore talent and also ensure safe distancing measures are put in place, they know they have to combine the physical and digital presences and keep their audiences engaged.
3. EDL Laminates - Increasing sales by improving customer experience
Attracting more B2C customers
EDL Laminates is known by design experts for their high quality laminates for interiors, but is lesser known by the general public. We worked together with EDL to help them widen their consumer base, and improve the experiences their customers have in store, as well as the way their staff can provide better service.
But they faced some challenges: their showroom was located far from the city centre, staff were not trained well, and customers gave feedback that lighting inside the showroom was poor. On the business side of things, they did not have a good system to track how customers make purchases, which makes it hard for them to strategise ways to drive up sales.
Prioritising issues to fix
We collected customer reviews and conducted design research with their staff to find out what issues they were having. Together with EDL, we mapped out the issues we should prioritise to achieve their ideal state, and what they can do to start implementing the revamp of their business.
Translating insights into actions
One key insight we gained from speaking with customers was that they felt overwhelmed by the choices of laminates available in the store. On EDL's social media channels, a lot of the content was catered to businesses, so the general public found it hard to decide which laminates they wanted for their home. Thus EDL knew they had to curate more content on their digital channels that was less technical.
We also worked with them to take steps to improve the store space, as well as develop ways to train their staff to provide better service. Empowering their staff meant that customer experiences can improve when employees are able to give good recommendations based on extensive product knowledge. We designed the interior of the store to look like an art gallery, as if customers were going on a self-guided tour. We improved the lighting too, of course.
4. DrX Clinic - Using design to stand out from the competition
Perceptions of hygiene due to the pandemic
Even before COVID-19, the beauty industry already had to deal with many challenges - rapidly changing consumer trends, preferences and concerns, as well as increasing competition. Beauty brands rely a lot on word of mouth and positive client testimonials to get new customers so DrX wanted to ensure they created a great physical experience for their customers as well as keep them customers engaged post-COVID 19. With safe distancing measures as well as customers' heightened awareness about hygiene due to the pandemic, what could DrX do to achieve their business goals?
Understanding what is at the heart of the approach
During the discovery phase, we helped DrX uncover ways to optimise their workflows, processes and design of the store so that they could stay ahead of the curve. With so many beauty brands in the market, they needed to create a customer experience so good that their customers would keep coming back, and tell their friends about it. Thus it was clear that customer experience was at the heart of the approach. We also conducted workshops with the team at DrX so that we got internal alignment on their goals.
Designing around market trends
Premium is popular, and so are customised experiences. From our design research, we found out that consumers liked to be treated like they were special so we made sure that we personalised as much of the interactions with customers as possible. The new store experience would also include a reduced waiting time and improved customer service - achieved by better staff training.
We also knew we had to bear market trends in mind so one of the trends we looked at was retailtainment - a convergence of retail, leisure and entertainment as part of the customer experience. We also explored responsive personalisation and phygital pop-ups.
Becoming a design for business advocate
The client is now a strong advocate for design. The key stakeholder from DrX said that for SMEs struggling to get their company back on track amid COVID-19, especially in a competitive marketplace where differentiation could be challenging to define, design that leads to brand experience can set organisations apart.
For DrX, we worked together to identify the things they could implement first such as a contactless, seamless, secure and personalised payment process, training staff, and an efficient payment process. Together with the insights from customers, we developed a strategic blueprint for them to implement in their new store.