Gym Tonic: Who says the elderly are frail?
Who says senior citizens are frail? This gym for the elderly empowers its members to be independent and defeat the onslaught of frailty amongst the elderly. Working together with the Lien Foundation and its partners, we used human-centered design to create a space for the elderly to keep healthy, make friends, and improve their mental well-being.
Lien Foundation, ActiveSG
Spatial Design, Service Design
Fighting in Singapore's battle against frailty
As Singapore's population ages, we need more innovative solutions that will help fight the symptoms of ageing. Can we design a holistic wellness programme that could incorporate not only resistance training but much more? How might we design a programme that motivates seniors to exercise as well as to sustain their interest for an enduring effect on wellness? We turned these challenges into opportunities for design.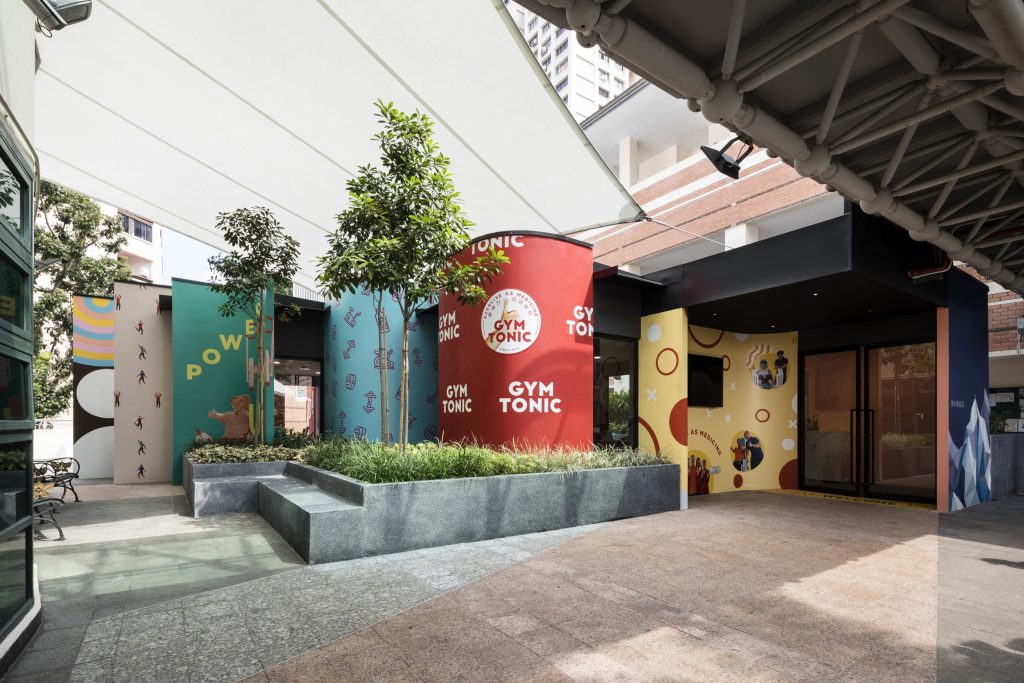 We collaborated with Lien Foundation, gym trainers, social services and experts to create the concept "Exercise-As-Medicine" to combat frailty among seniors. Instead of popping pills as medicine to combat an illness (in this case, the "illness" of old age), Gym Tonic focuses on building strength.
Looi Yuan Hui, also known as Looi, a wellness coach at the Gym Tonic @ Bishan explains, "if we're not active by the time we're 60, that means we would have lost about 20% to 30% of our muscle mass. This means we have lost some capability to walk, climb stairs or get around".Thus the gym tonic programme helps with strength training to help seniors be able to take care of themselves.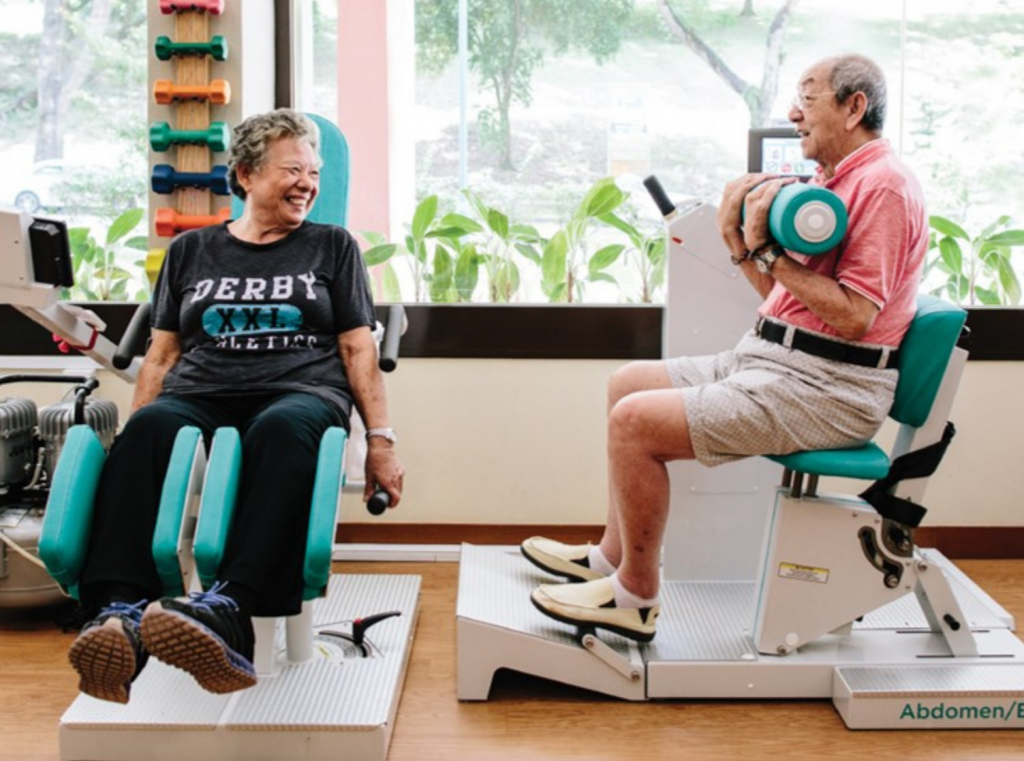 Affordability and increased social interaction
To design Gym Tonic, we first sought to understand our users by conducting detailed interviews over a month with elderly and their family members. We also did research on global and local trends and case studies on elderly wellness, looked at what was available in the community, and spoke to experts on geriatrics.
We created personas of each type of elderly person and narrowed down our target group to the two types that would make the most impact in the community - the social magnet, and the bargain hunter. These two personas were the most prevalent in the community.
The "bargain hunter" is a person who isn't mentally fit, but is still mentally sharp. They don't have a lot of retirement funds thus they try to get the best deals and make good use of freebies and services provided by the government and social support organisations.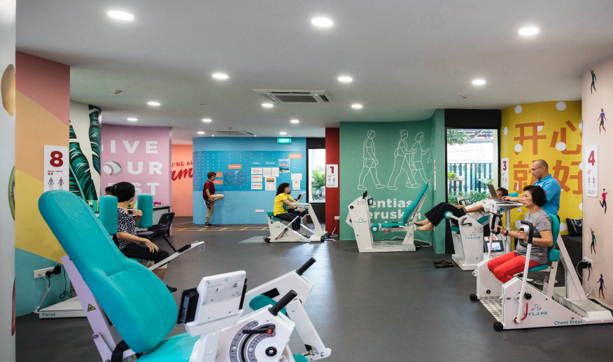 The "social magnet" loves being the centre of attention and in the thick of the action. They don't like to stay at home, nor cook or eat healthily as they would rather eat out with friends at the hawker centre. If they exercise, they prefer group exercises and would prefer to have an exercise coach or leader.
After doing our research, we co-created a solution with stakeholders and sought expert validation. Once revisions were made to the areas we wanted to focus on, we tested, prototyped and implemented the Gym Tonic.
"helping the elderly to gain strength, improve confidence, and make new friends"
A place to build both physical and mental strength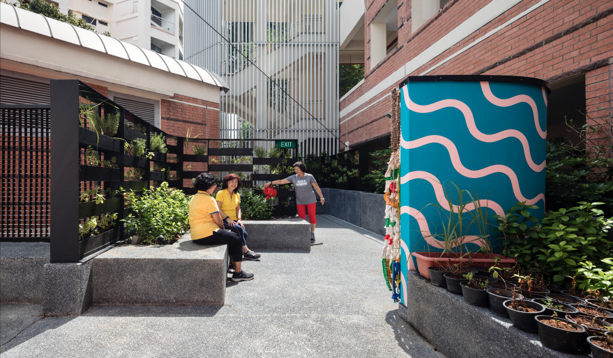 Many elderly we spoke to had goals they wanted to achieve - they wanted to be strong enough to play with their grandchildren, be able to balance, defeat their fear of falling down, and even have enough strength to do simple household chores like washing the dishes.
Bearing this in mind, we designed Gym Tonic @ Bishan to be a space where seniors can build back their strength, face problems that come with "old age", and in turn build their confidence and mental well-being. Gym Tonic is more than just a gym with equipment. In addition to the space, there exists an entire network dedicated to developing strength in seniors.
Benefits of joining the gym programme
At the gym, trainers guide members as they go through each exercise. The group structure of the gym programme allows members to have company and motivate each other. There is also a pantry and rest area for members to cool down, eat, and socialise. These opportunities for social interaction and the feeling of a sense of belonging are important for building mental wellness among the elderly.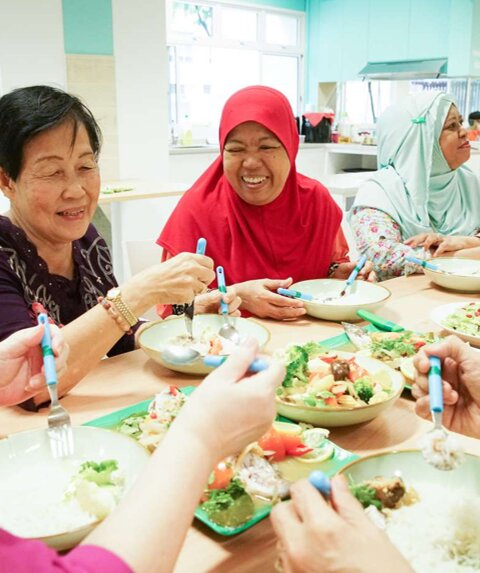 We put data collection to good use too. When members enter the gym, they don't need to remember how much weight they carried previously as a membership card contains this data. Each gym machine also helps count the number of reps that members need to do and counts down the rest time between each set. This allows them to track their growth, and once they see how far they've come and how close they are to achieving their goals, their confidence will grow as well.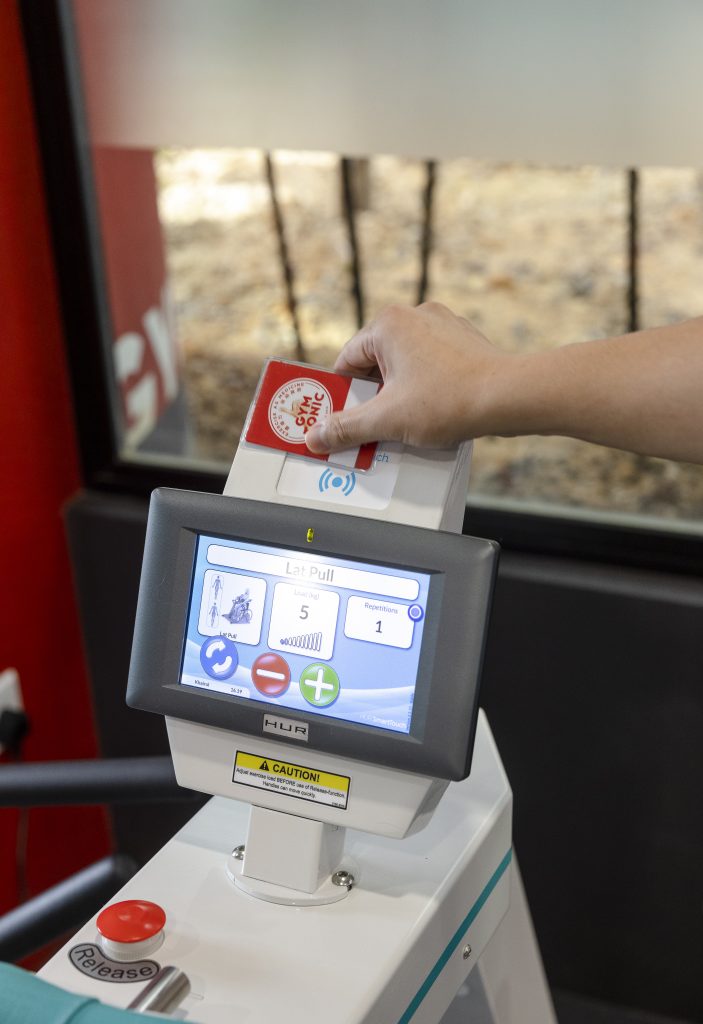 Verdict - the members love the gym programme!
To date, more than 4000 elderly at 26 eldercare facilities have benefited from Gym Tonic all around Singapore. At the Gym Tonic @ Bishan, retention rate among members is at least 80% as many members wish to continue on with the programme. 30 members have been actively training since 2018, and 60 members have been active since 2019. The oldest member is a gentleman who is 100 years old, and around 10 members are in their 90s.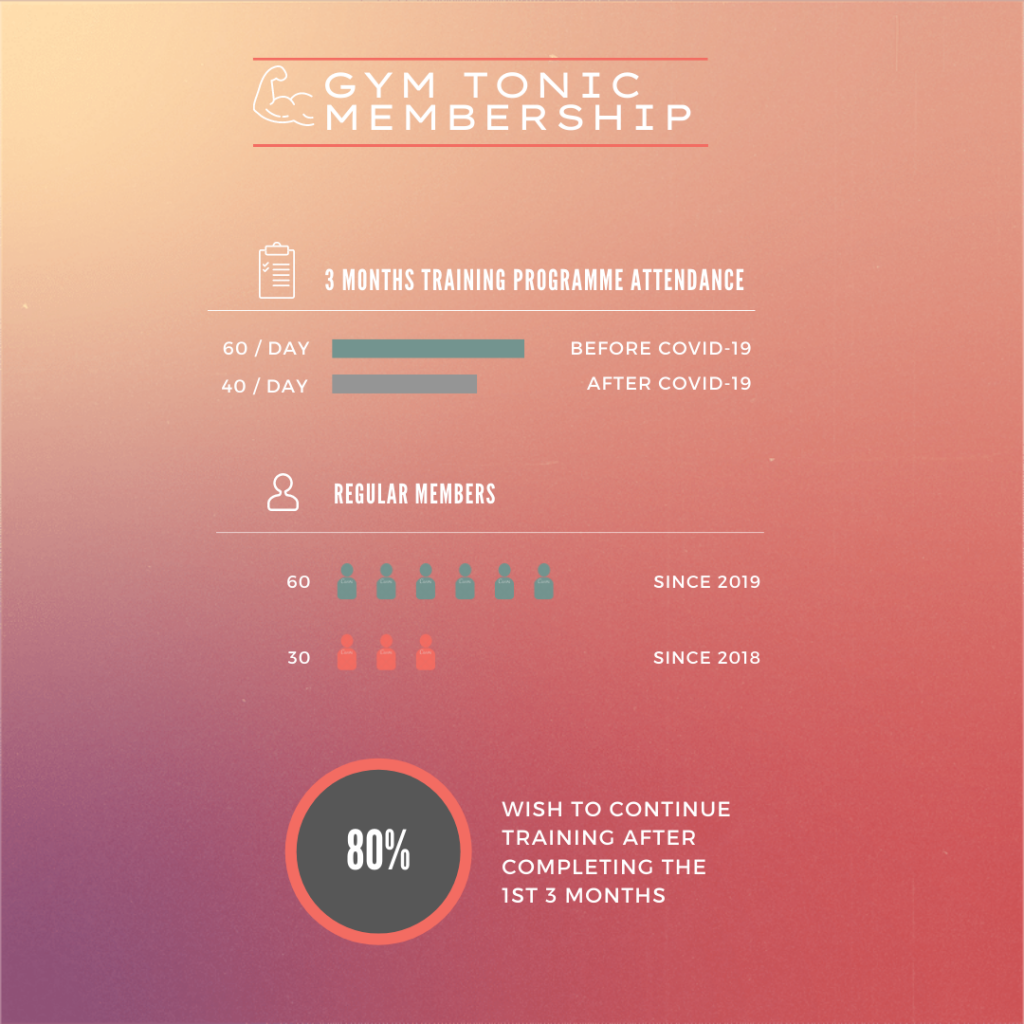 Other features the members and trainers love
Many members love that the machines are spacious and well-spaced from each other. They also shared that the colours in the room and of the machines are soothing and appealing. Trainers noticed that members with dementia would read out the motivational slogans on the gym walls which helps with mental stimulation.
The trainers reflected on how the fruit wall allows them to conduct interactive and fun activities like balance exercises and games for members with dementia. In one activity, members lean into the wall from a short distance and touch the image of the fruits.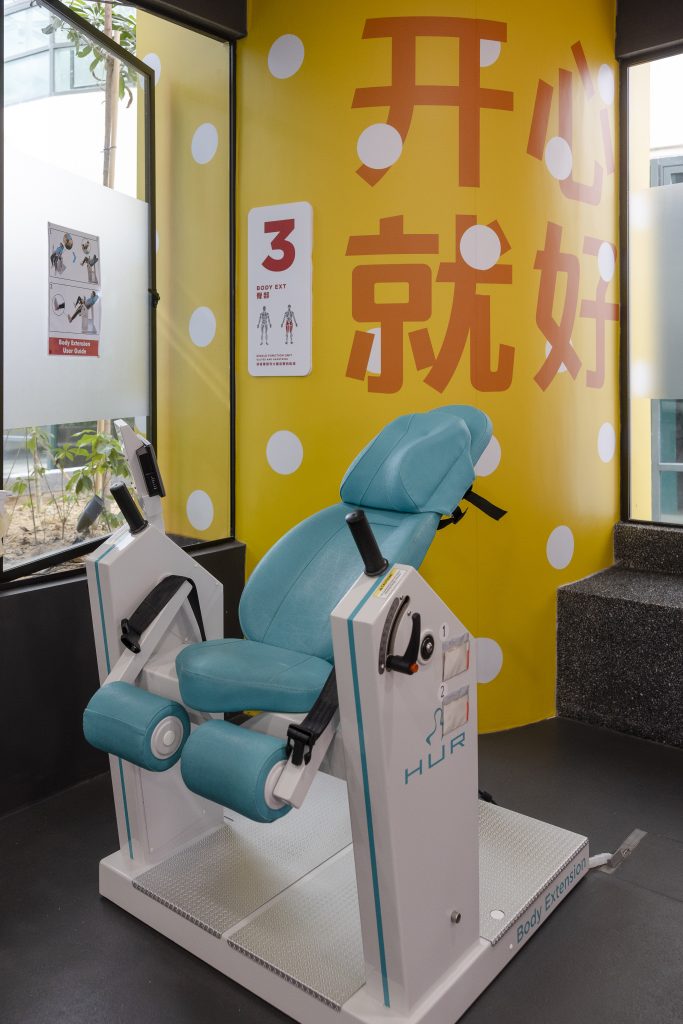 Making the space their own
Gym Tonic @ Bishan has been open for almost 3 years and the space has evolved to suit the needs of the members and trainers from the time they first opened till the time safe distancing measures had to be implemented.
As more members started using the gym, signages on warm up exercises originally designed by Formwerkz and Afternaut were replaced with clearer step-by-step instructions featuring human faces instead of icons. This was changed on feedback from the gym members who needed reminders on how to perform the warm up exercises.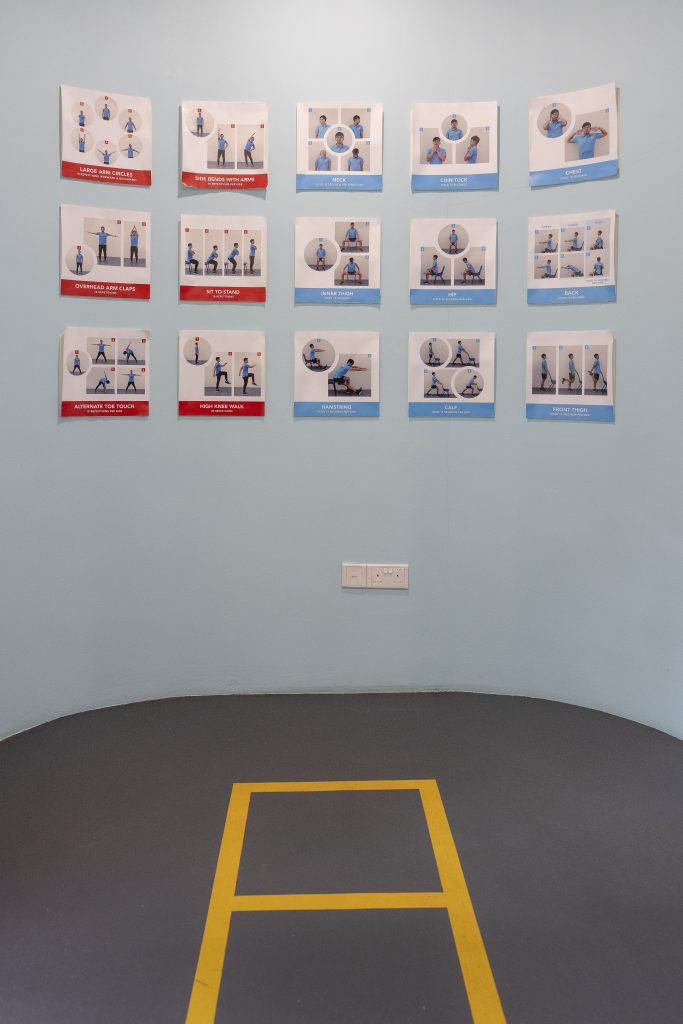 Creating their own queue system and painting a mural
Members suggested creating a unique queue system while waiting their turn to use a machine - slots for their gym cards were put on the walls so they could "queue up". The gym also created their own guides on how to use each gym equipment to remind members how each exercise is supposed to be performed.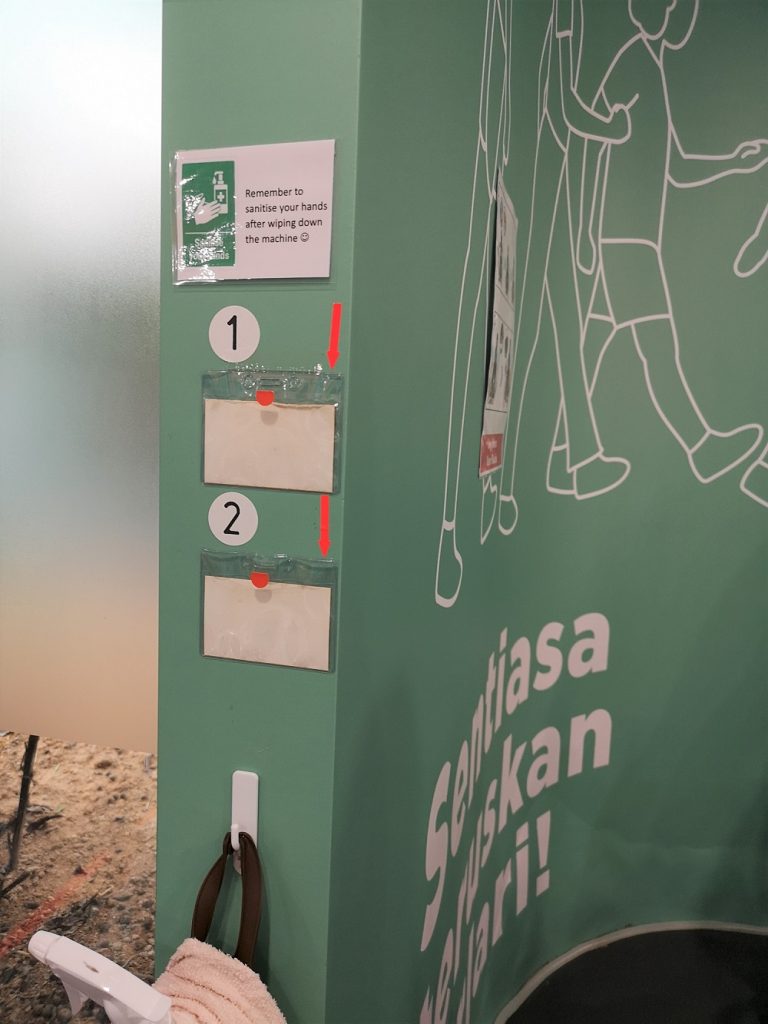 One of the members, Mr Jullian Smalley, a former architect, painted a mural on one of the walls in Gym Tonic's outdoor spaces featuring scenes from various parts of the world like the Mediterranean Sea and rolling hills in the Italian countryside. He took 6 months to complete the project and with the help of a few of his fellow Gym Tonic friends and his wife.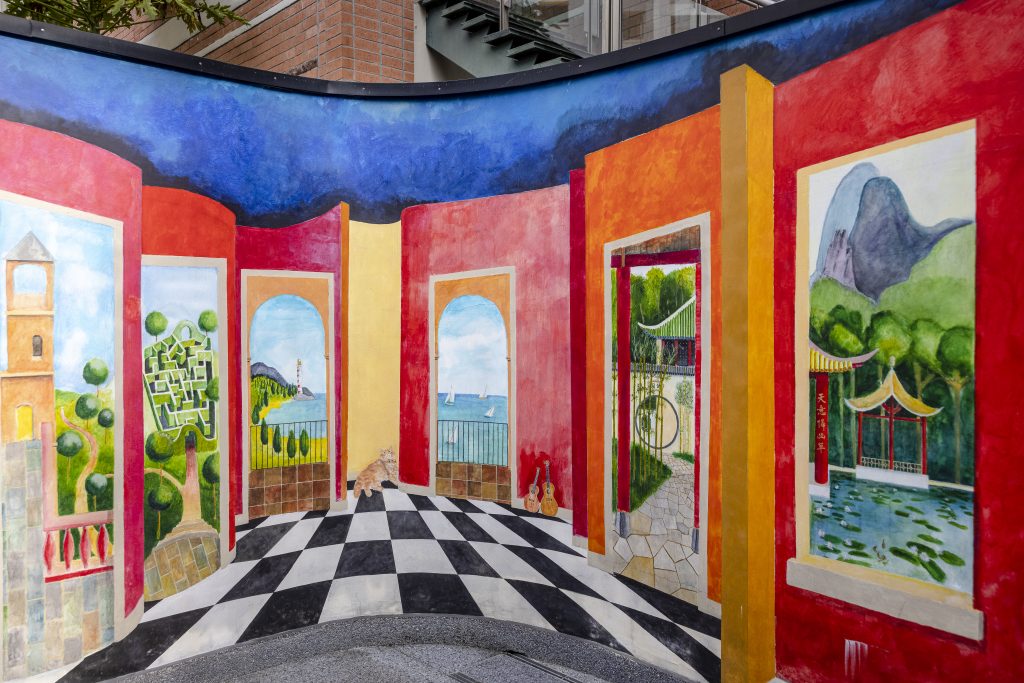 The way the seniors adapted the space to suit their needs and also lovingly added touches of their own shows how proud they are of their gym and how they feel it truly belongs to them. In design, we must also provide opportunities and room for users to adjust the space to their needs.
Designing for the next group of elderly - the baby boomers
One in four Singaporeans will be aged 65 years and above by 2030, thus we will need more spaces that can enable seniors to live out their golden years with joy, dignity and good health. The baby boomer generation will be joining this statistic, and they are more educated, well-travelled and have higher spending power than the pioneer generation of Singaporeans.
They will have completely different needs, thus, spaces like Gym Tonic @ Bishan will need to evolve. Design solutions are never the end of the road - they can be constantly tweaked to suit the users' needs.
In Afternaut's case, we would like to design and understand more about issues faced by the elderly, and we're always on the lookout to co-create with partners. Get in touch at hello@theafternaut.com if you'd like to work together with us!
The Afternaut would like to thank the Lien Foundation, as well as Looi from Activa SG, who contributed insights and statistics that were used in this case study.