How Singapore retail
brands can emerge
stronger
Afternaut conducted an 8-week design sprint to come up with solutions to help Singapore retail brands expand into international markets. We explored, prototyped, and executed ideas on facilitating smart commerce and the outcome was an accelerator plan for brands.
Enterprise Singapore, DesignSingapore Council
Experience Design, Design Sprint
Rejuvenating the retail experience in Singapore
The problem statement given was: "What is the future of Smart Commerce for Singapore retailers, and how do we leverage our assets and resources to enable Singapore retail SMEs to reach key Asian markets of 1 billion people?"
We're proud to have brought together industry players in the private and public sectors to take part in the design sprint. Both sectors were able to understand each other's concerns and opinions, and make the design sprint a fruitful one.
There were three phases to the design sprint: Discover, Define & Prioritise, and Ideate & Validate. The chart below shows the process of the three phases and also the activities that took place within each phase.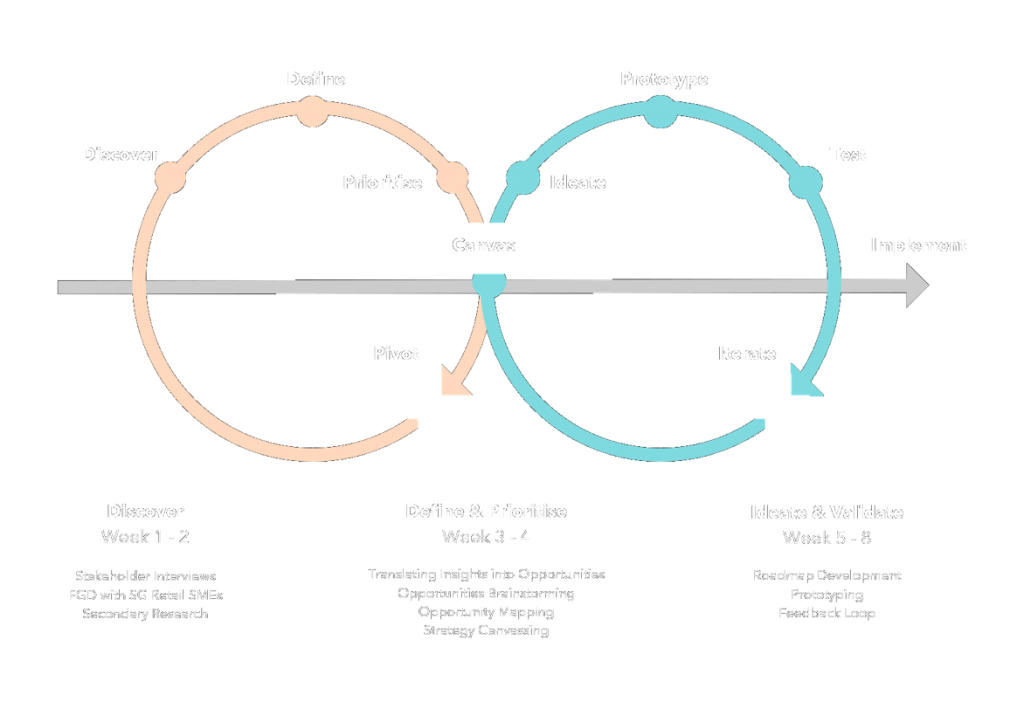 In the "Discover" phase, the SMEs shared their pain points when expanding overseas, and stakeholders from real estate, infrastructure and government were also interviewed to understand how they can help SMEs export overseas.
The SMEs and stakeholders then took these pain points, shaped them into opportunities and formed a key problem statement so that we could all strategise for a solution in the second phase, "Define & Prioritise". Finally in the "Ideate & Validate" phase, we formulated the accelerator programme for overseas expansion, which we validated with the SMEs.
The Accelerator Programme
-8 weeks to develop solutions for exporting SG brands overseas
-4 workshops
-26 sessions with SMEs to identifying pain points and validating ideas
Turning pain points into opportunities
The priority pain points that the SMEs shared were that they had limited capabilities to gather market insights and connections, and there was a high risk and cost of expanding overseas. Additionally, they were unable to establish a brand presence as there was limited knowledge of Singapore and its brands and they struggled to get prime locations.
We transformed these pain points into possible solutions for the SMEs. For example, we could provide market insights but instead of just giving them a set of market data, we could repackage the market insights data into meaningful assets for them to draw insights from. Singapore brands could expand into the same market together, so instead of competing with each other, we drive collaboration between SMEs. Additionally, by collaborating with each other, they could represent Singapore as one unit and shape a cohesive Singapore brand for overseas markets.
Reducing time for market expansion from 1 year to 90 days
With the accelerator programme we developed, it would only take 90 days to launch a market testing platform based on proven data-driven validation. They would get a market ready feasibility assessment, consultation with industry and market experts, brand and product curation, networking opportunities, and digital-physical integration systems. This helps address the pain point of not having the capabilities to get market insights and build local connections.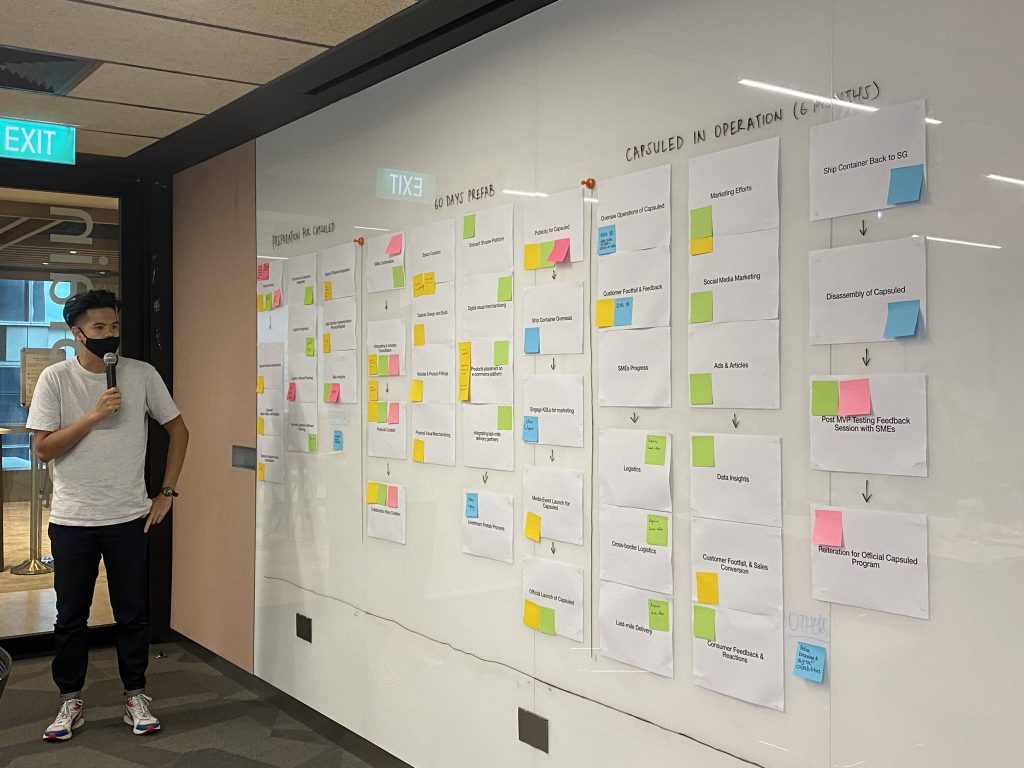 Data-driven operations using a modular store concept
The accelerator programme facilitated the development of physical operations as well. Among the features, SMEs would have access to a modular store for them to test and iterate their product to get immediate market and product validation, and streamline operations and costs.
The modular store also allows for the Singapore brand to be curated and our soft power to be measured within this controlled space. Additionally, SMEs who have different levels of experiences with overseas expansion can use the modular system to customise the help they need.
Ensuring business continuity was one of the concerns the SMEs had, as setting up a business is one thing, but ensuring that it keeps running is another. Thus the programme includes a one month business continuity plan where SMEs can get feedback with programme curators to better understand results of their market testing, gain access to an insights database and get more go-to-market consultation from network partners.
With the accelerator programme, SMEs will benefit from these key outcomes:
● Reducing the time to enter market from 1 year to 90 days
● Capability building for SME overseas expansion
● Confidence to scale in targeted markets
With this accelerator, SMEs of different levels of experience can expand overseas quicker than before and at a much lower risk and cost.