Traders - the Modular Business Hotel
We designed, built and planned operations for a modular design system of business hotels for Traders Hotels in China. More than just achieving the design and build of a new property, this model came with operation systems that can be implemented and refined based on data collected at each hotel.
Traders Hotels (Shangri-la), China
Service/Experience Design, Business Strategy, Branding, Spatial Design
scaling up and reducing cost
We were tasked to redesign Traders Hotels' properties to be scalable, intuitive and fuss-free for business travelers. Traders were looking for a way to reduce cost and time spent redrawing and redesigning every new property developed. Thus, we worked on designing, building and operating a modular design system of chain hotels.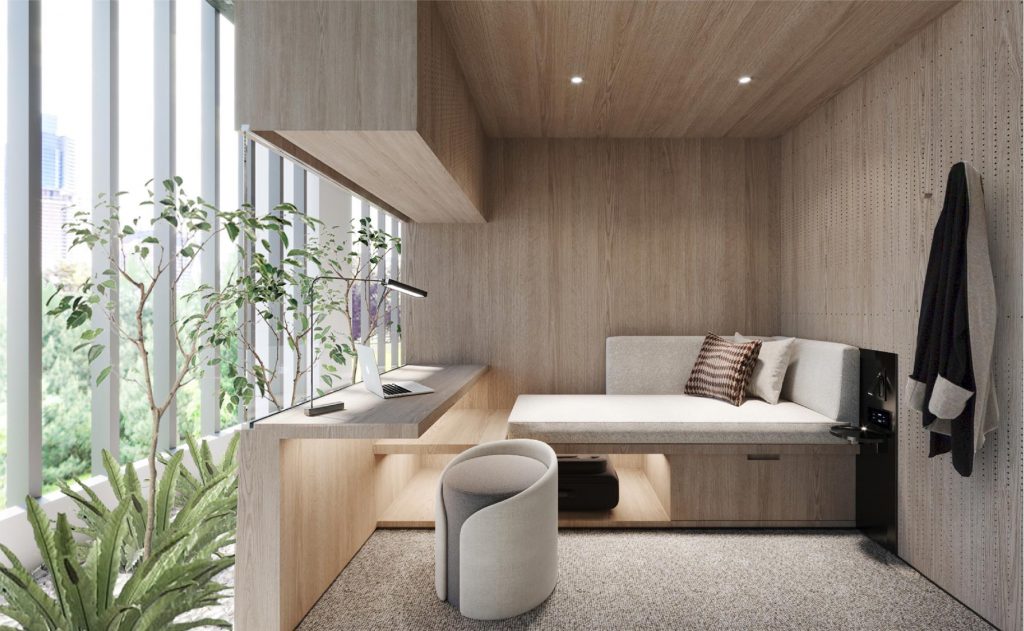 The sleeping pods allow travelers who have yet to check-in, or those who have checked out but are waiting for their
flight a quiet space to rest and work.
Intensive and varied research
We undertook intensive research to get insights into some of the pain points and wishlists for business travelers when they stay at business hotels. The result from the research was that travelers wanted functionality, familiarity, practicality, and assurance.
Balancing this with Traders' business objectives, we developed a "design, build, and operate'' model hotel that they could apply to any future property they decided to develop.
Collaboration between the design disciplines
Afternaut brought all the different teams in the Formwerkz collective together for the first time to work on this project. The team at the Traders liked how efficient this arrangement was, as they could just go to one company for services in architecture, interior design, branding, customer experience, and landscaping.
Co-creation with the client
We also involved Traders in the design process by involving them in design workshops. The working team had experience in finance and real estate, thus they contributed fresh perspectives from a business and space use point of view. For example, they decided on developing a modular system of hotels because they wanted to cut cost inefficiencies and aimed for a four-year return on investment on the land. Traditional hoteliers usually looked at designing hotels one-off, and would only get return on investment on the land in eight to ten years.
"More than just achieving the design and build of a new property, this model would come with operations systems that can be implemented and refined based on data collected at each hotel."
Turning insights into great customer experience to achieve business goals and set Traders apart from the competition
Our research showed that business travelers wanted a common space to hold meetings – hotel lobbies were too noisy and had too many distractions, and their rooms were not appropriate spaces for discussions.
Traders wanted to streamline certain processes. For example, instead of sending housekeeping to top up coffee and tea in every room, they wanted to centralise pantry supplies.
Thus, we designed the "Smart Pantry" – a guests-only space with conducive and delightful meeting areas and a fully stocked pantry.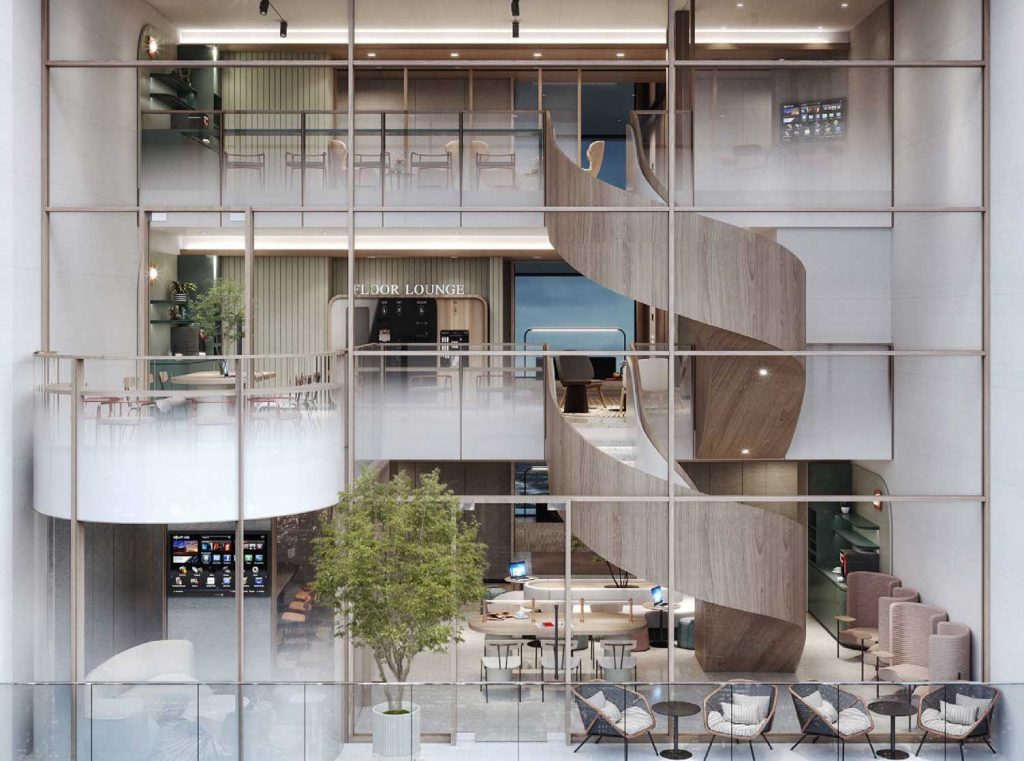 The Smart Pantry is located on every three floors of the hotel property.
We learned through our customer research that business travelers traveling in pairs and sharing the same room often had to share one workstation, thus we designed rooms with two workstations.
To set Traders Hotels apart from the rest, we addressed a major pain point - access to meeting facilities once guests arrive and before they leave. Thus we designed a 12-hour lounge where guests can use meeting rooms, sleep pods, and showering facilities 12 hours before and after their stay.
Building personas and ensuring that we designed to meet their needs and address pain points
One of the personas we built at our user experience workshop was the practical traveler, who just wanted his basic needs met; like a quick and easy check-in, a steady WiFi signal, and space in the room to unpack and work.
So, as part of the operations processes we designed for Traders, we made sure that all processes and interactions were kept simple, fast, and that they worked. This reduces the time needed to learn how to use new facilities like the laptop-sized safe in the room or get used to new processes, like the check-in/check-out process.
VIDEO: Easy packing and easy unpacking once a traveler is in the hotel room
The modular system also meant that the hotel could be "assembled" like building blocks for every property that Traders built. This freedom to assemble parts of the hotel makes it highly adaptable for different spaces.
Thus we took the Design for Manufacture and Assembly (DfMA) route, which would help Traders achieve economies of scale while ensuring high quality build.
VIDEO: The modular nature of the hotel makes it highly scalable and adaptable, even in an industry that has been hard hit by
the effects of COVID-19.
using data to enhance customer experience
We developed a Service Blueprint for Traders, detailing the role of hotel staff (those who deal directly with guests, and those who work at back-of-house) and the processes that should take place. At each step of the way - from the time guests performed their hotel search and booking, through the check-in process, and till they depart and post their stay, they would go through a seamless experience that will make them want to choose Traders for their next stay.
But more than just implementing these processes, we need to track them too. Thus, part of the blueprint includes data collection points where we can track the return on experience so that we can improve it to add value to guests. Traders would be able to enhance customer experience at all touchpoints, services and facilities based on data-informed decisions.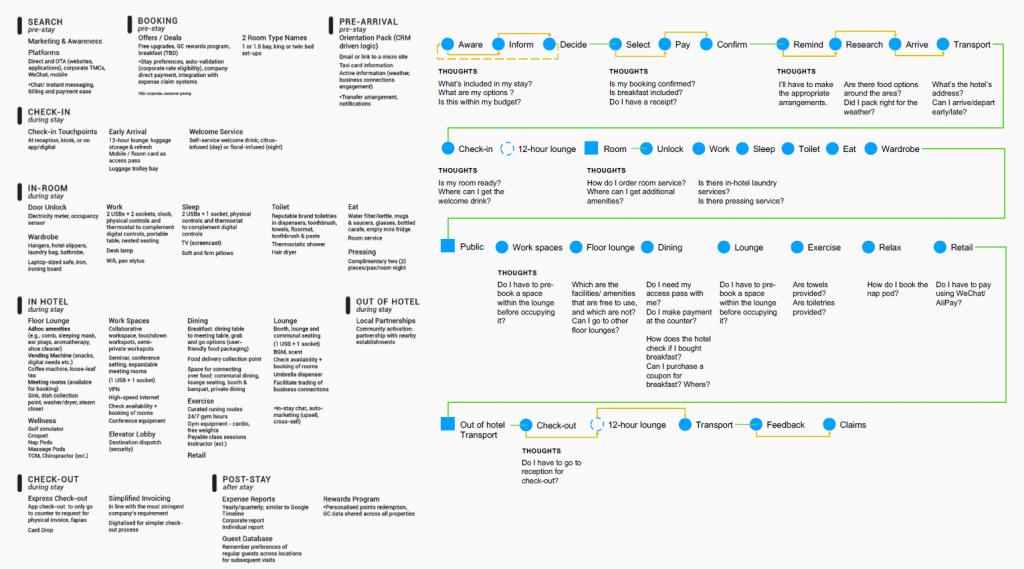 Through intensive research and interviews with business travelers, we created a customer experience journey that is
systematic, intuitive and seamless - perfect for people on the go.
All the research, assets, processes, workflows, and blueprints were compiled into a playbook for Traders Hotels, which they can use as a manual for the build and operation of the hotel. Even though COVID-19 put a hold on the construction of the hotel, the modular nature of this hotel means that the playbook can be adapted to future traveler needs and business requirements. For example, shared facilities can be designed to take into account physical distancing while facilitating business discussions, and the self-check in process already minimises physical contact.