Rejuvenating a dead space
We conceptualised, designed and curated a technology festival inside an old glass factory in Shenzhen, transforming it into a celebration of the creative spirit of evolutionary science and technology enterprises, built from the ground up.
The Zero One Tech Festival saw more than 100,000 visitors, 120 tech companies and exhibitors, and over 1,000 members of the media attend.
Seedland, one of China's largest real estate and tech firms
Service/Experience Design, Spatial Design, Branding, Digital UI/UX, Placemaking
Getting visitors to come to a tech festival in a remote part of Shenzhen
We had to design and curate a technology festival that could stand out from the 500 tech events being held in China annually (with 180 being held in Shenzhen alone), in an old glass factory located far away from the city centre.
Typical technology events like CES are held in a big expo space with no obstacles, but the main hall, which was the old machine hall, had many pillars with tops of a different size right in the middle. This posed a huge physical challenge for us, but we turned it into one of the features of the expo and even pulled human traffic through the centre by designing and building an LED pathway.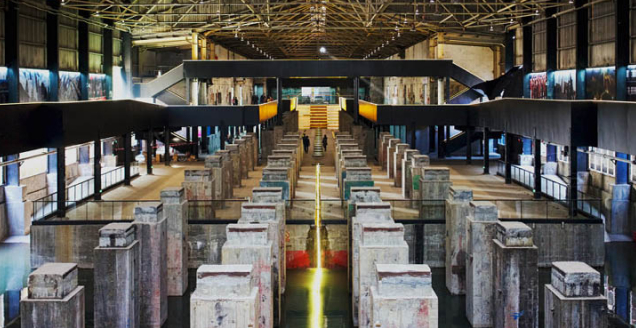 The machine hall before rejuvenation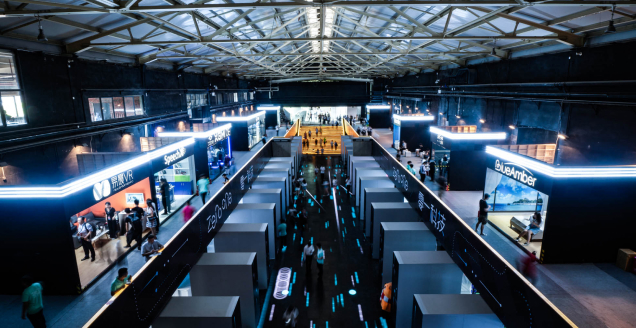 The machine hall after rejuvenation
We designed and curated events, programmes, facilities and spaces around these themes.
Zero and one are the numbers in the binary system, and also represents how the space went from nothing (zero) to a vibrant festival (one).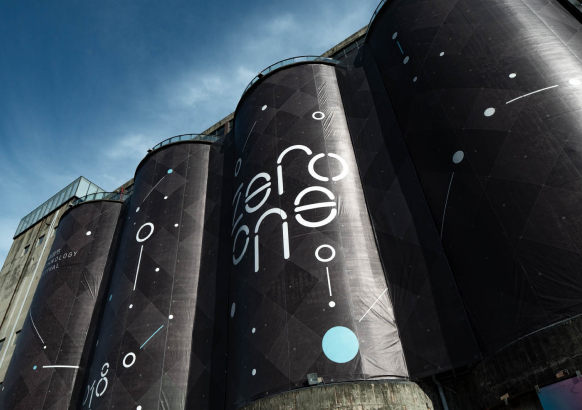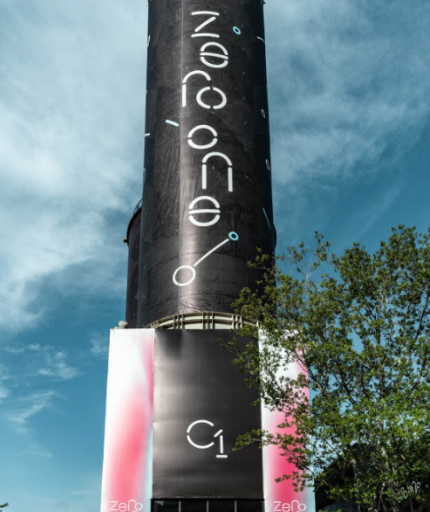 Getting people from all walks of life to realise how tech is a seamless part of our lives
The Zero One Tech Festival had to be more than just a place for vendors to introduce the latest technology, thus we brought in media and art installations to immerse festival goers in:
1. How beautifully and intricately technology has been integrated into our lives, without us even realising it
2. How technology fills us with a sense of wonder
Thus what made this technology festival special was that it made people fall in love with technology and enabled them to understand how technology makes our lives better beyond what they can see.
By creating great experiences, the festival let people realise how technology made them feel - just like how good design should work! The festival was open to the tech-savvy, industry leaders and members of the public.
By creating great experiences, the festival let people realise how technology made them feel - just like how good design should work!
How we made the immersive customer experience
Here are some of the features:
We wanted to wow audiences the moment they finally arrived at the location as a way to get them excited about the event.
Thus we built a massive 140m totem that would greet visitors at the entrance of the space.
In the day time, the shadow of the totem would travel in a circle on the ground like a sundial, symbolising how the advance of technology through time is second nature. As it lights up at night, it signifies the festival's vision of a bright future driven by technology.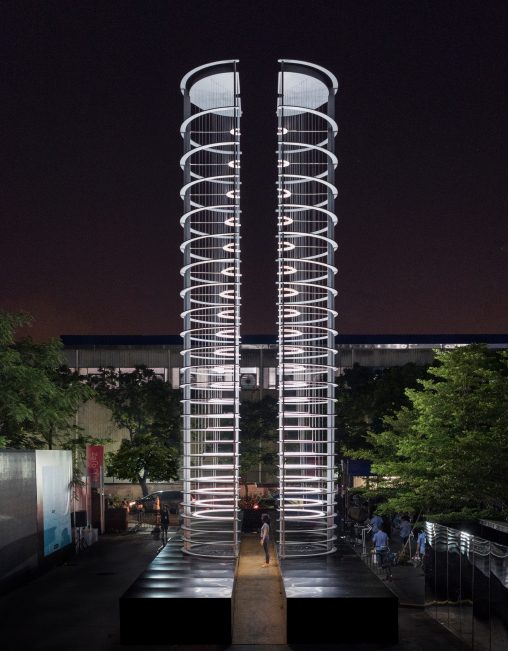 creating an immersive wall of ideas for tech leaders
The summit gave new technologies and future industry leaders a stage to present breakthrough innovations and reach a wider audience. How could we share those ideas clearly to audiences?
Thus, we created seamless wall and ceiling digital screens to captivate the audience and display live translations during keynotes speeches. It also doubled as a live gallery feed of the event.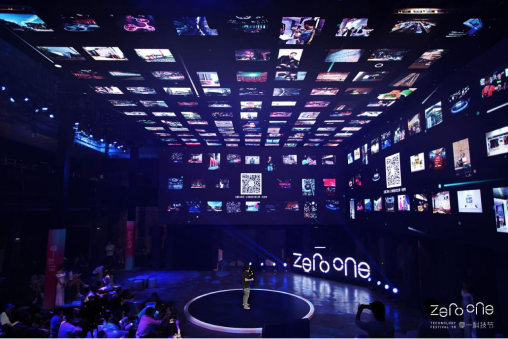 A physical manifestation of the city's energy
We created this installation that spotlights how such digital interactions have become intimately essential to our lives.
Shenzhen is China's capital of innovation, where the energy and lively heartbeat of its innovators never seem to cease. In Pulse of the City, each beat represents a post or comment tagged with the event's hashtag on social media.
The exhibitors selected for the festival were the stars of the show - they introduced innovative ways of interaction between their product and the user.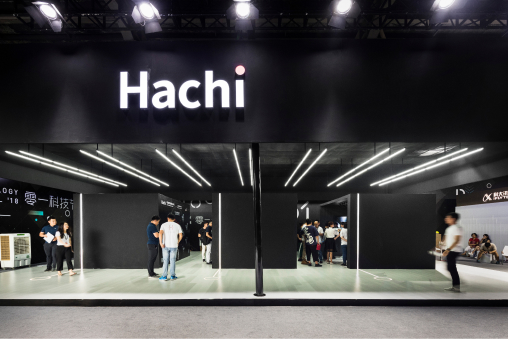 Hachi engaged guides to take visitors on a tour of a Smart Home to show how their innovations can be incorporated into daily life.
Regular smart home showcases were very product driven, with mock up house settings and dense product displays. The Hachi booth allowed visitors to feel like they were being taken on a journey by an experienced guide, and they could build a relationship with the brand, instead of just being shown an object.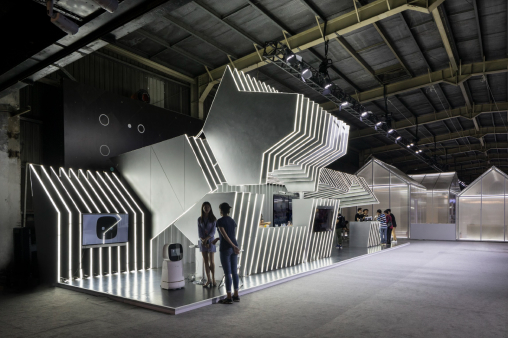 Another booth design concept we came up with was for the home security and technology brand Puppy. They'd be launching for the first time in China at the Zero One Festival. We designed their logo to look like a puppy guarding a home (like a guard dog).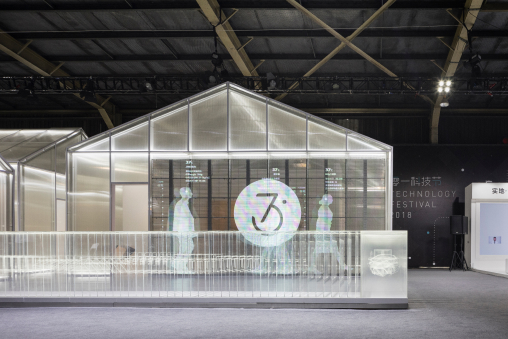 The concept of the booth for 37° smart furniture is inspired by the closeness and warmth of communal living as everyone takes care of each other. Layers of individual silhouettes on the translucent façade portray the capabilities of 37° furniture, which utilises 'smart' technology to take care of its users. The cozy-looking booth for 37° invites visitors in for a visit so they feel comfortable understanding and interacting with 37° smart furniture, instead of feeling intimidated by complicated technology. Designated notebooks allow visitors to pen down their ideas of what they would like furniture of the future to aspire to be.
tech companies & exhibitiors
Media companies attracted
We worked very closely with Seedland to bring the ideas they had in mind onto paper and to life.
From project kick-off to event opening, we took six months to revive a repurposed glass factory and attracted visitors from all across China. The event proved to be a great success in showcasing China's most cutting-edge Black Technology.
GOOD
EXPERIENCES
CREATE VALUE
GREAT
EXPERIENCES
INSPIRE CHANGE