Is the future of retail a services-only mall?
Talks about the future of retail and of decentralising shopping malls has been going on for a while now. But when developing Seedplaza, Afternaut didn't want to just move the mall outside the city.
We wanted to create a mall that was like an extension of the living room to complement the e-commerce lifestyle in China. We also wanted it to be a place where families of multiple generations can spend time together. The result is Seedplaza, a services-only mall in China. The first mall was opened on 27 March 2021 and we expect 4 more to open in other parts of China.
The Formwerkz team (made up of Formwerkz Architects, Studio iF, and Afternaut) designed, built and developed operations for this special mall that only sells services. So yes, you won't find typical retail offerings. At Afternaut, we like to work on projects that challenge norms and require a creative twist to the solution.
Why a services-only mall?
Even before the pandemic, China was highly dependent on e-commerce. So when people were quarantined at home, demand for it was driven up even more.
We wanted to complement this e-commerce lifestyle by providing convenient services that the residents of the nearby community would use. From Afternaut's design research, we discovered that there were a lot of multi-generational families living in Seedplaza's vicinity. So we designed services that would meet their needs - education, health, and provision of daily supplies.
We wanted the residents to feel like when walking into the plaza, they were walking into another part of their home to perform tasks in their daily lives. Thus Seedplaza would be like an extension of the living room where multiple generations of a family can spend time together in a common space. This helps the community feel a sense of belonging too.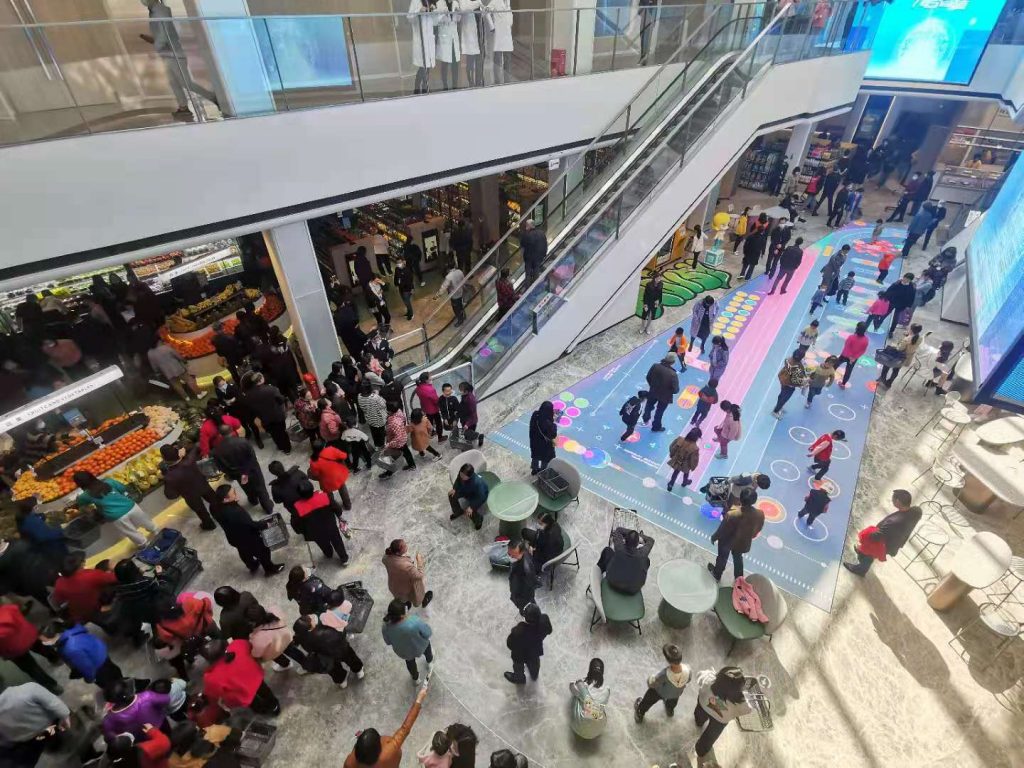 Optimising digital touchpoints to benefit all
We designed the experience in the mall to be enjoyable and useful as well. So we developed digital touchpoints such as the Power Up My Plaza Interactive Floor, shown in the first video. As children step on interactive lights, the kinetic energy will generate electricity to light up Seedplaza. This helps develop hand-eye coordination, and teach children about teamwork. With playful elements like this, we hope to improve the community's quality of life.
Other digital touchpoints like the plaza's mobile app allows for one-touch access to the plaza's WiFi and residents can scan pictures to do online shopping. The plaza's self-service concierge and app also provides information about the plaza's tenants and general information. The app gives Seedplaza an opportunity to collect information about visitors' behaviour and what they are seeking help for, so they can create more services or improve existing ones.
The plaza's door entrances are set up with systems to count foot traffic. This data combined with the other sales and customer data, can be transformed into marketing and customer service insights to make Seedplaza an even better place for the community.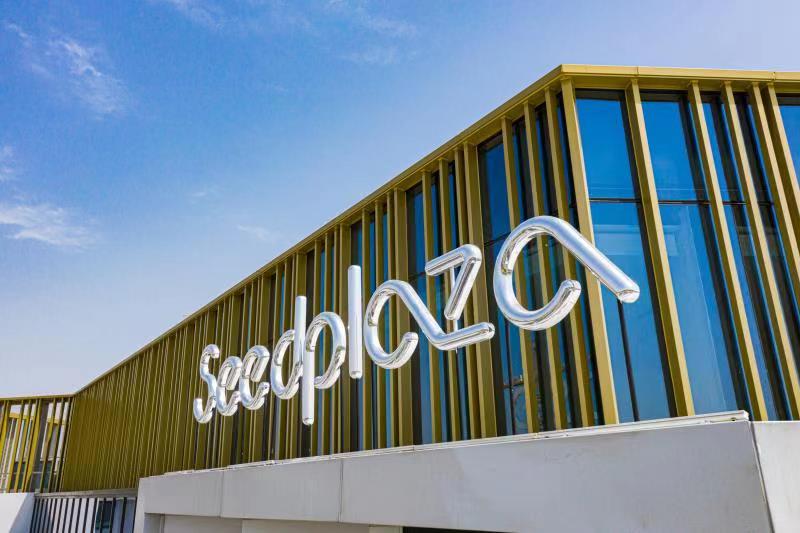 How we designed the main services in the mall
Afternaut helped to bring all of Formwerkz' capabilities in spatial design, interior design, experience design, digital, and branding together to conceptualise and build the mall. Planning what services to have on each floor took a lot of understanding of consumer behaviour as well and how to best utilise the space.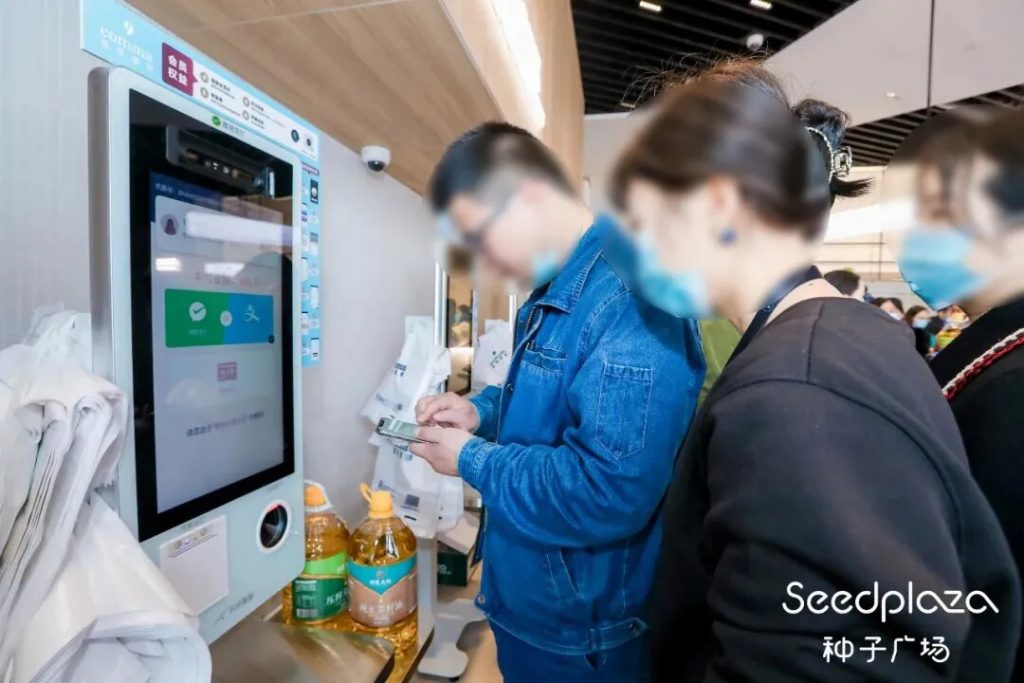 Sponge World is an Eduhub with classrooms and smart play experiences like a stop motion story lab, sensory garden, and VR scavenger hunt. Children can play mini games, experiments, activities, as well as build social skills, communication skills and creativity.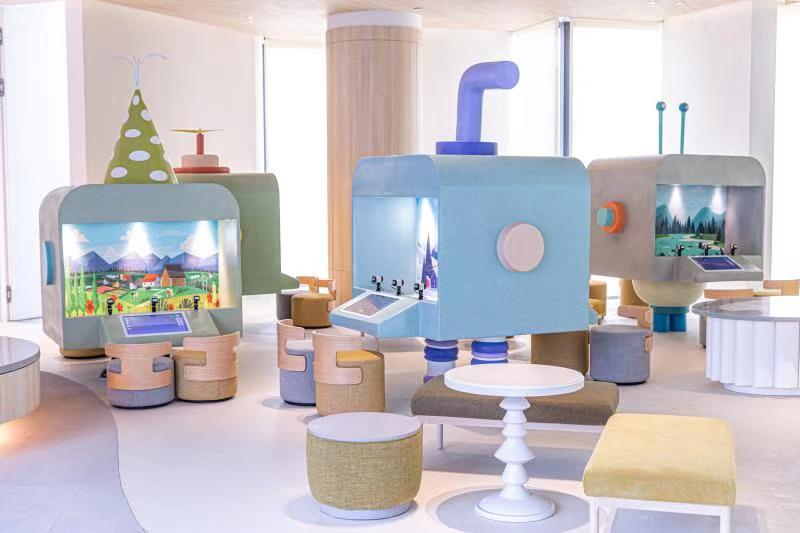 JoyHealth is the first community online to offline medical service in China. It has records of the patents' daily habits, diet, and exercise, and provides home emergency services. The clinic has an "intelligent micro-diagnosis room" with facilities for remote video consultation, self-service medicine purchasing, and routine medical tests.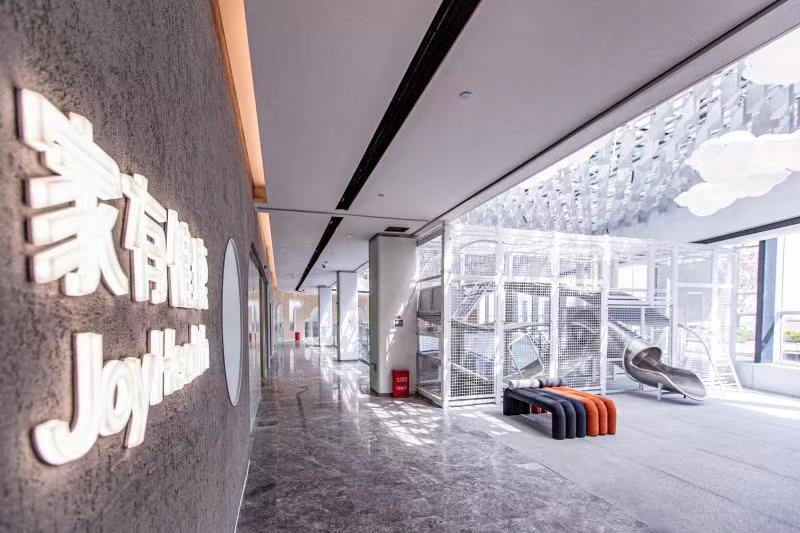 Designing around trends brought about by the pandemic
Using the technology we developed previously for "frictionless" retail, we developed and updated version of the Comma Supermarket. The pandemic brought about a rise in awareness of food safety, an increase in online shopping, and popularised live streamed cooking shows so we designed services around these trends.
There is a mini hydroponics farm inside the supermarket so that shoppers can be assured about the origins of some of the fresh food they intend to purchase. For other items, interactive screens and barcodes that can be scanned give more product origin information as well as recommended cooking methods. At the cooking bar, shoppers can choose their preferred cut of meat for staff to cook. Interactive screens in the area show daily menus and livestreams of KOLs cooking.
"The plaza would be a space where multiple generations of a family can spend time together in a common space."
The supermarket also employs intelligent distribution robots to help with delivery of e-commerce orders. These touchpoints allow consumer behaviour to be captured and using this data, the supermarket can further improve their services, understand what their consumers need most, and ensure they meet that demand. The supermarket is also open 24 hours, meaning they can get groceries at all times of the day and in all weather conditions, completely self-serviced!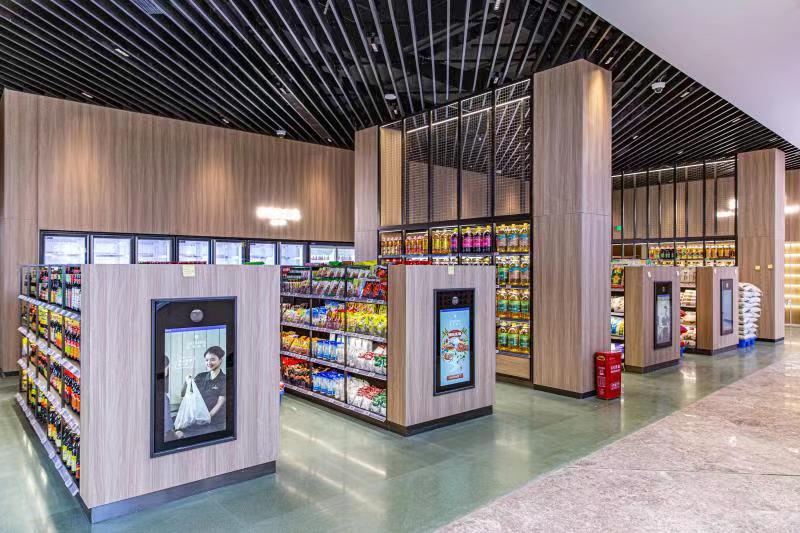 This is just the first of a series of malls that we're working with Seedland to design, build and operate around China. Gathering insights and lessons from this mall, we'll definitely be improving the further iterations of the other malls being developed. Stay tuned!
Location: Jingmen, Hubei, People's Republic of China with more to come Spatial Consultant: Formwerkz Architects
Design Principals: Alan Tay, Gwen Tan
Experience and Digital Director: Kokyong Chew
Total Floor area: 5,000sqm
Year: 2021 Images: Seedplaza, Formwerkz
deep dive into what makes seedplaza tick
Want an in-depth look at Seedplaza and how it was developed? Download the case study here.