leveraging the office lobby as a hub for collaboration
Taking the office lobby's purpose to the next level
Encouraging collaboration with modular design
Measuring 15,000sqft, Alpha Centre is an integrated hub, exhibition, event and experience centre within Phase 3 of the SHSTP. It can hold activities and showcases such as product launches, networking sessions, graduation shows, competitions and pitches.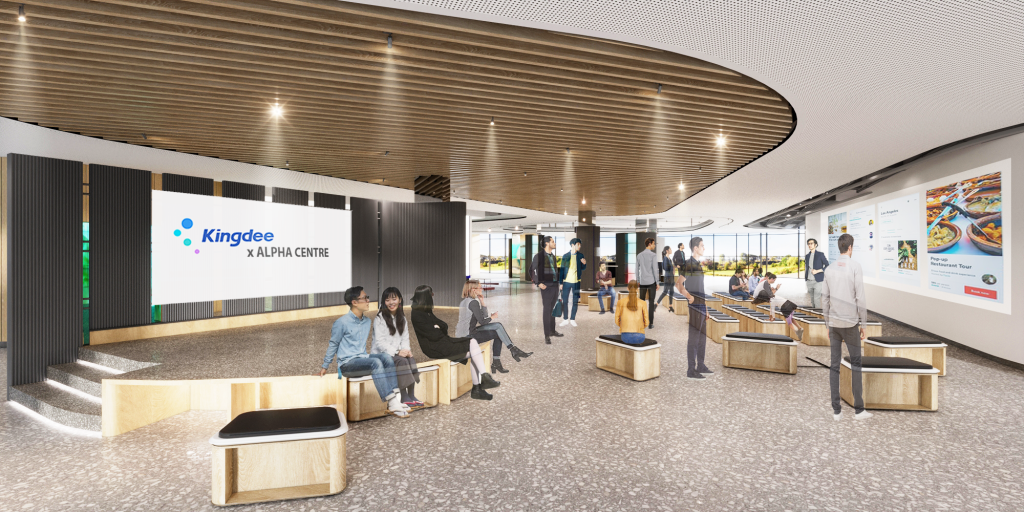 The modular furniture here can be adapted to suit the seating configurations of many event types, as well as adjust to the evolving nature of events caused by the pandemic. For example, the furniture can be easily arranged for small groups to sit together, or to accommodate space for screens and projections in the case of hybrid physical and digital events. The furniture can also be rearranged to showcase exhibitions or create working and meeting spaces, facilitating collaboration.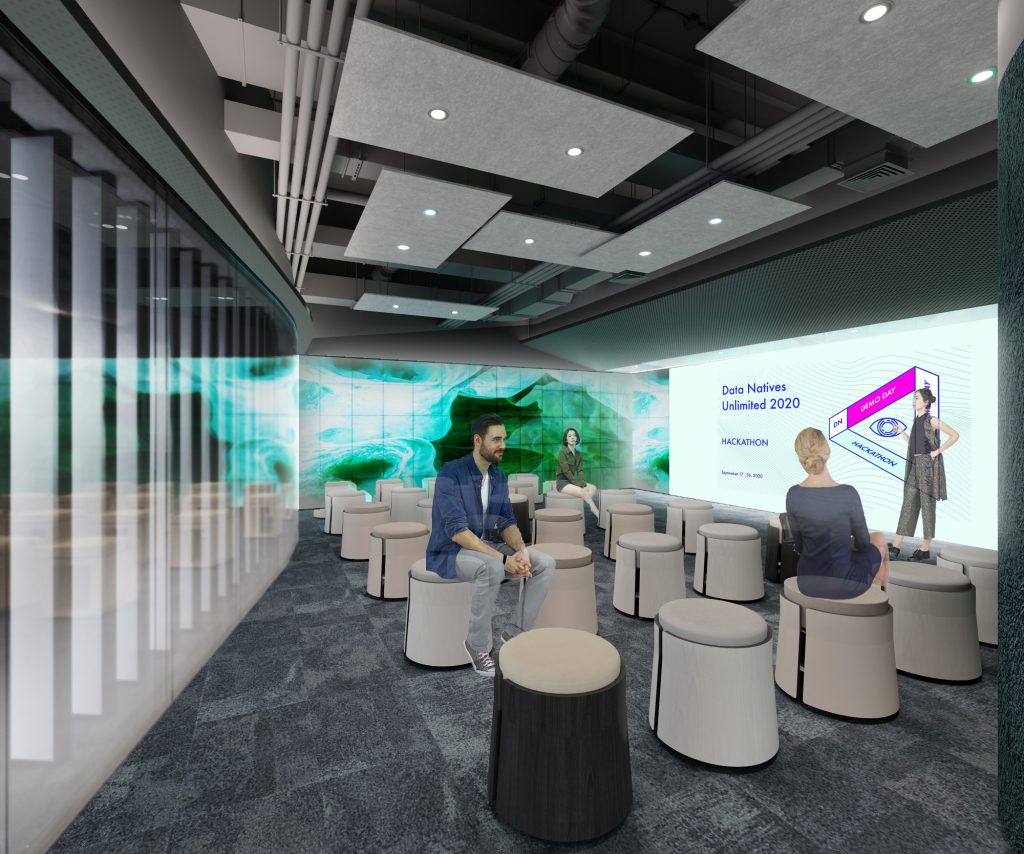 Developing a passionate "open-source" community
As the heart of Alpha Park, Alpha Centre needs to be the central node of life and innovation. Thus we designed different entrances for each of our target audiences to give them an experience that would excite, inspire and encourage collaboration and sharing of knowledge, imbuing the spirit of an "open-source" community that everyone can benefit from.
The East Entrance aims to organically attract walk-in visitors and students from the 14 universities around Alpha Centre to discover its unique culture and innovation, and ultimately join our community.
Aspirational prototype showcases of innovation possibilities that the future can bring will be the main highlight. Established brands that do high-level future technology research will be invited every quarter to showcase their prototypes here. Thus Alpha Centre does not just aim to engage the Monday - Friday crowd, families can also visit on the weekends to be inspired.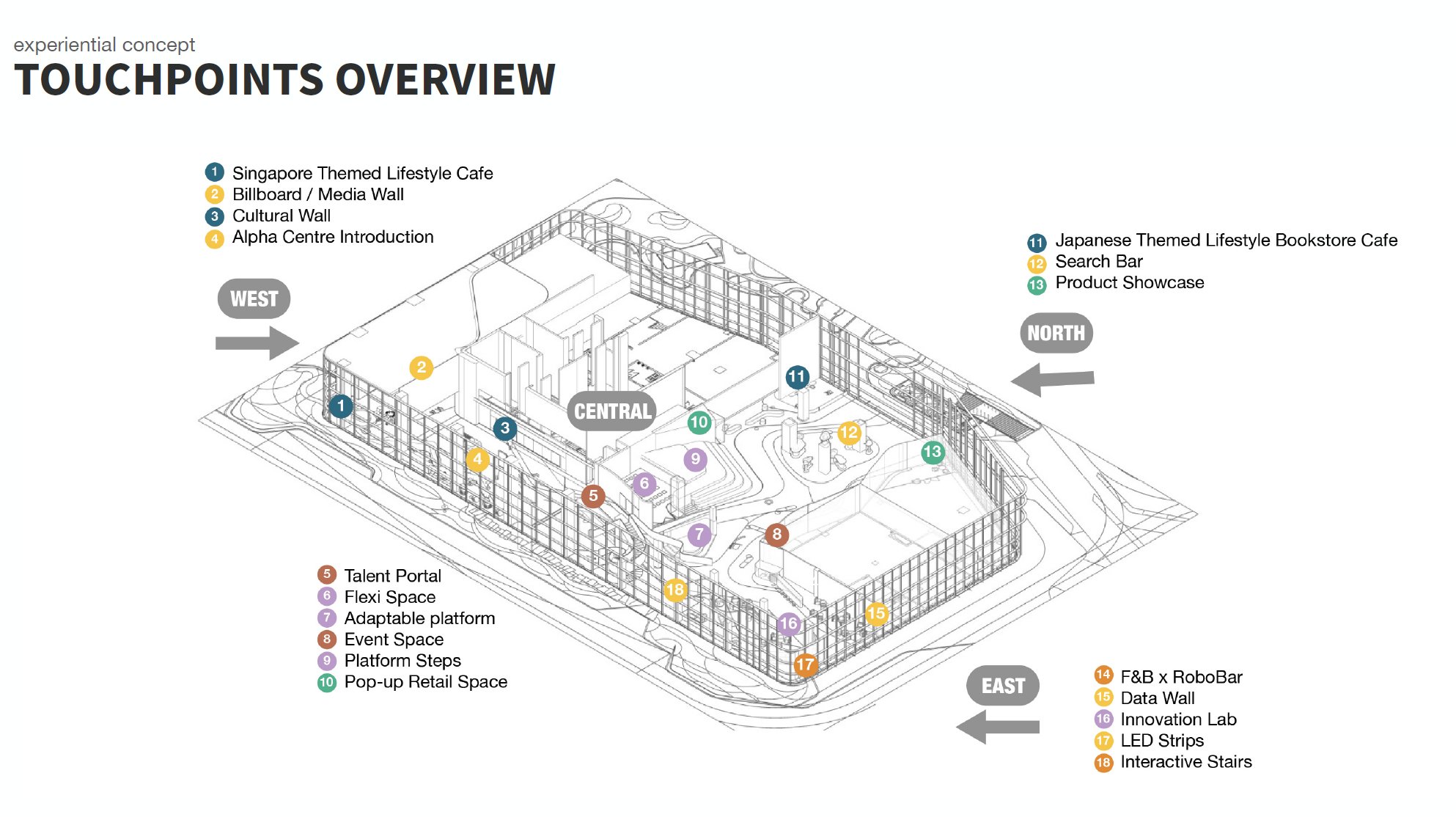 Retail spaces in the Central area give the limelight to small and medium sized companies. In the spirit of innovation and creativity, crowd-funded projects feature prominently and visitors can watch, touch, like, share and buy products through interactive touchpoints. Creators can get real time feedback on products, make changes, and then test with the market, all in the same space.
Students can explore the industries and possible careers they could embark on and offer their resumes through a talent platform, which is part of a resource portal that was set up. The resource portal also showcases information about strategic partners and promotes tenants' products and services.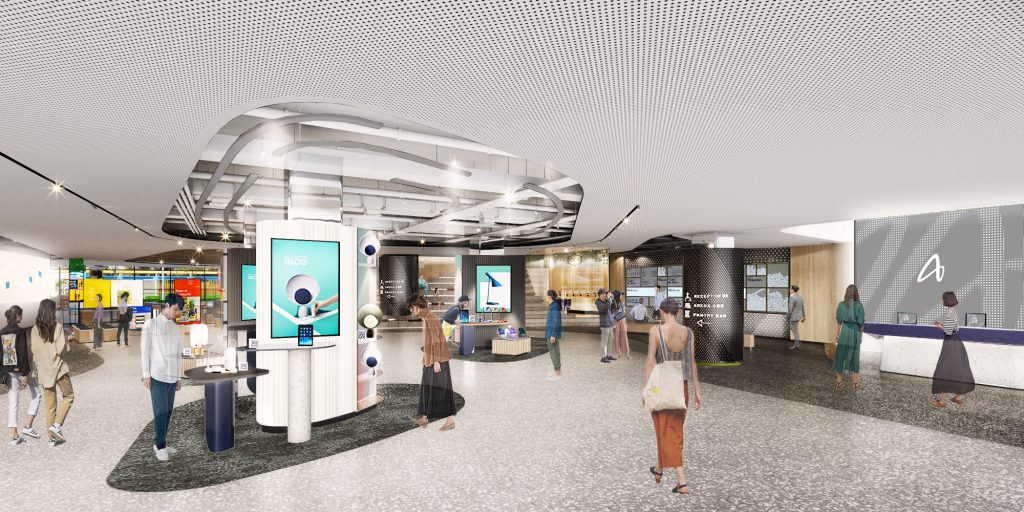 The office crowd would enter using the North Entrance. As they are at Alpha Park often, they are kept engaged with intuitive content that can be refreshed regularly such as new technology and product showcases, brand features, as well as innovation and tech events happening around SHSTP.
The interactive information wall displays the latest events and visitors can even scan a QR code to submit their own artwork which could be exhibited too.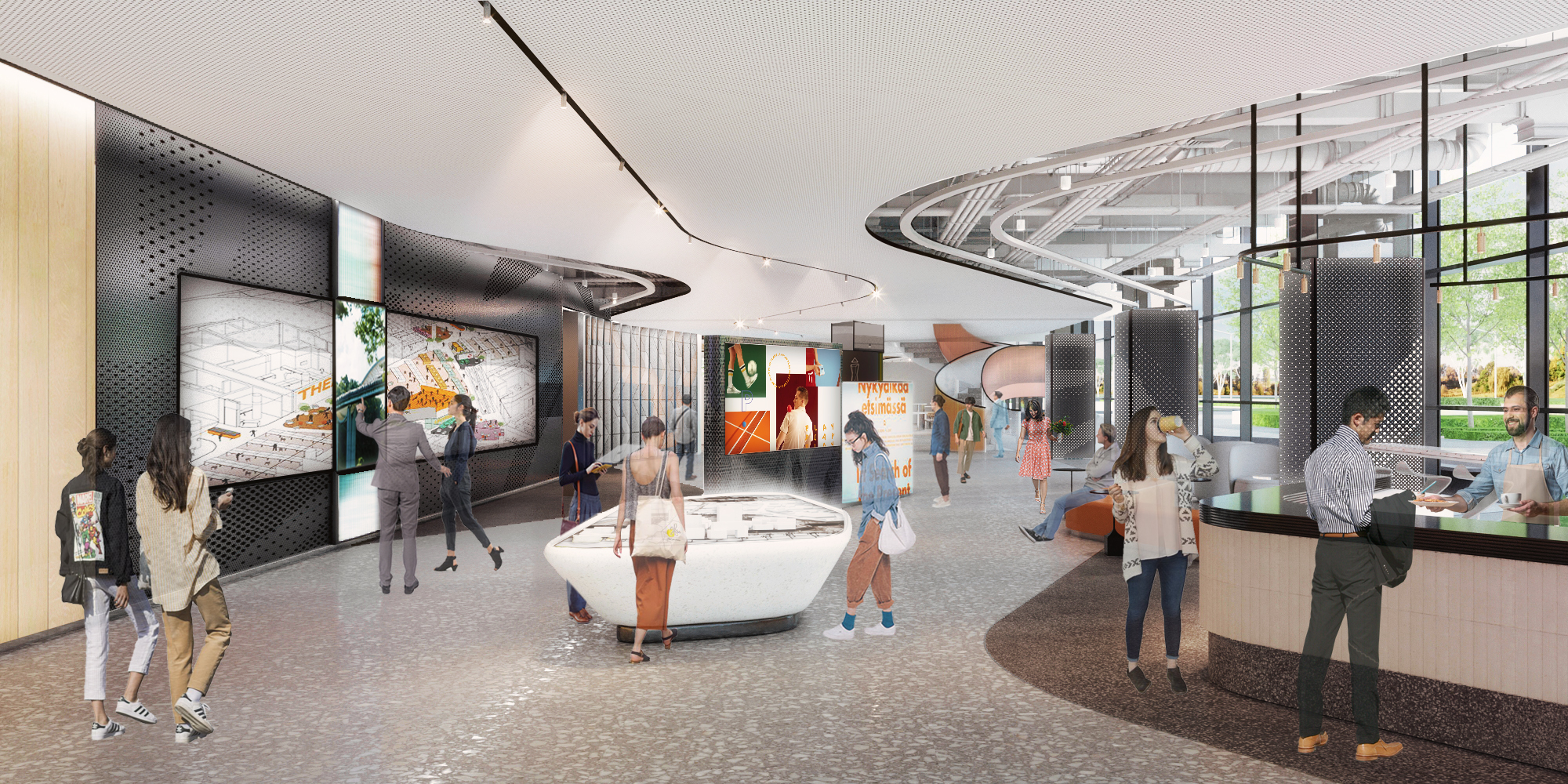 SHSTP often plays host to government officials from around the world, thus Alpha Centre also gives an overview of the master plan of the park. At the West Entrance, visitors experience the multi-faceted dynamism of Alpha Centre as an innovation hub of Hangzhou.
Visitors can get an overview of the entire development, its functions, features and also a 10m long interactive cultural wall that celebrates Singapore, Hangzhou, and Japan's culture (a Japanese engineering company is one of the biggest tenants in the park).
Illustrations of Singapore, Hangzhou and Tokyo are shown in the background and when the front screen is pushed in front of each city, it shows fun facts about that city: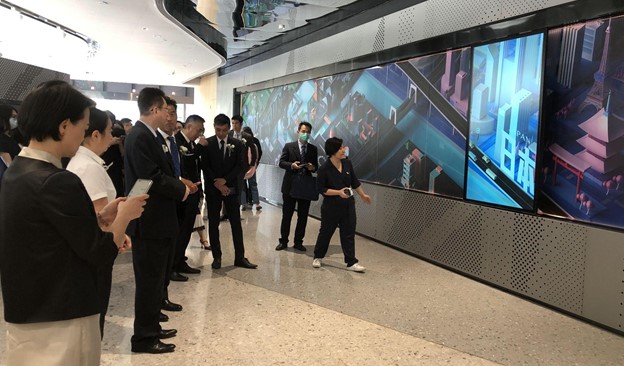 This demonstrates the cooperation and partnership between the three cultures and can also represent one of the overall aims of Alpha Centre - fostering collaboration.
Come join the Alpha Centre community
These experiences at the entrances could possibly take the form of VR and AR, so that people can access it online and don't have to come down to the centre to participate, further increasing Alpha Centre's accessibility. For the people working in Alpha Park, creating this lively community makes them excited and proud to go to work, and for others to aspire to work here.
By providing these platforms for passionate, like-minded people to interact, we can build a lively community and elevate Alpha Center as the space for people to come together, make conversation and co-create within SHSTP - a representation of what the entire park is.